From chalet girl to bespoke holiday guru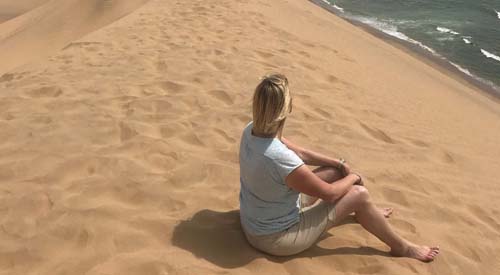 JO POWELL has worked in travel for more than 30 years. She started as chalet girl in Tignes, then moved to London to work for Mark Warner and stayed for 25 years, finishing as head of commercial. She was then general manager of a small ski company. Four years ago, she set up her own business, catering for wealthy and famous customers requiring bespoke luxury holidays. AMANDA STEWART spoke to her.
YOU yawn and as your eyes blearily focus on the latest TV holiday adverts featuring tantalising warm seas and tanned, supple bodies and think could this be me…
Then, as you ponder being another year older, you decide to have a holiday to remember.
Well, you could have just that with the help of "personal" travel agent Jo Powell, who is based in Oxfordshire. She will arrange your perfect luxury holiday…for a price, of course.
This quiet but adventurous woman, who grew up in the Forest of Dean, has been passionate about travel since her first flight with Dan-Air at the age of seven.
She recalls sitting on the plane among smokers while eating something that resembled a bacon sandwich - not the most auspicious start perhaps but, Jo admits, she was hooked.
Thirty years later, there's not much she doesn't know about travelling and not just with the rich and famous clients.
She still marvels at the fact that we can step on to an aircraft on one continent and step off on another, reaching places that once she could only read about. She still loves flying long haul.
Nothing, however, Jo does is "off-the-shelf".
Private jets and helicopter transfers smooth the way and hired guides ensure a unique experience. Local knowledge on the ground is key.
"We like to take care of the details, such as preferred seats on aircraft," says Jo. "Ensuring everyone is aware of entry and visa requirements and, in the days of covid, any testing and additional entry requirements."
Now that far-flung travel is opening up again, safari and wildlife are re-appearing on people's wish-lists.
Jo recommends combining a visit to Victoria Falls with a fly-safari tour of Namibia - the views over the salt flats of Etosha in the north and the sand dunes at Sossusvlei in the south have to be seen to be believed.
Or try trekking to see the gorillas in Uganda or a fly-safari to Tanzania or Kenya to experience the migration of the wildebeest. Then unwind on the beach in Mauritius, Zanzibar, Mozambique or the Seychelles. The choice is endless.
But what if something goes wrong?
"Yes, emergencies can happen," says Jo. "One time, we had an ash-cloud situation where we had customers stuck in the Alps and also in Egypt.
"The Alps people came back via coach while the customers in Egypt had an extra week's free holiday."
A fairly common occurrence is when one leg of a client's flight is cancelled, which nearly always has a knock-on effect in terms of their itinerary, particularly if flights to their destination are infrequent.
Then Jo has to not only rebook their flights but also amend the itinerary.
She herself experienced such a crisis a couple of years ago while travelling with friends.
They were touring Namibia and travelling by light aircraft. The final leg was a flight from Sossusvlei in the desert by private plane to Windhoek, where they were due to take a connecting flight to Johannesburg and then on to London… only the private plane had a flat battery.
Jo recalls: "The charter plane people sent another plane to pick us up but we had to rearrange our tickets so trouble can happen to us travel professionals too."
She invariably visits clients in their homes and over the years has found that tastes in travel have changed.
Costa Rica is now a favourite with families as it features lush-jungle exploration, misty volcanoes, kayaking on roaring volcanoes and unspoilt beaches.
Early in the season, Jo looks after skiers who have been denied their "fix" for almost two years and will no doubt be desperate to be back on the slopes.
Canada is renowned for its record snowfalls, awesome scenery and epic heli-skiing as well as luxury lodges such as Chateau Lake Louise.
Back in Europe, the Chedi in Andermatt and Gstaad Palace in Switzerland remain firm favourites.
Jo is a huge fan of the Three Valleys in France and is keen to head back.
What about cruises - does she cater for those who like a more sedate lifestyle?
"Yes, I book cruises too," she said. "I frequently tie a cruise into other components for an itinerary, for example, customers fly to Calgary, take the Rocky Mountaineer train to Vancouver and then take an Alaskan cruise, finishing off with a few hotel days in Vancouver before flying home."
And with that, she is off again for six days in Iceland exploring. Jo grins. This luxury travelling is hard work but someone has got to do it….