What to wear when it's time to fear the burn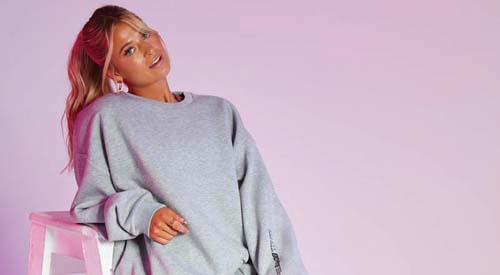 THERE'S a terrible contradiction about getting into shape. If you have been told to lose weight for health reasons then it's very likely that most active wear will make you want to hide in a dark room for the rest of your life.
It's all well and good for the people who go to the gym/jog/exercise at home to squeeze their well-toned flesh into skimpy training tops and skin-tight leggings. Those of us who are still a bit lardy after lockdown have no hope.
The gym, spinning class, Pilates or yoga can be intimidating enough without having the extra shame of being squashed into unforgiving Lycra.
And, silly is it may sound, I know lots of people avoid group exercise because they are embarrassed about how they look.
Two things.
One, if you feel that you are "too fat" for the gym or the exercise class, start small.
Get a decent pair of walking shoes and get out every day for 30 minutes. We are all busy but half an hour is not that much time.
If you do it at the same time every day after three weeks it will become habitual and if you don't walk, you'll miss doing it.
Make it fun. Post on social media that you are going to go for a walk every day for the month of January. Post a picture from your daily walk. If you set off looking for something interesting to post to your followers 15 minutes will have passed before you even notice it.
If you feel like skipping a day, you'll be more inclined to force yourself if people are waiting to find out what happened on your latest walk.
Two, retailers are finally realising that some of us don't want to feel uncomfortable and look ridiculous while trying to get into shape. Forgiving workout wear is the way forward.
Meggan Grubb, a 24-year-old personal trainer and YouTuber has brought out a range of gym wear.
It is mostly the type of gear you'd expect from a well-toned trainer but it also includes classic loose grey joggers (£30) with cuffed ankles and pockets. Women like pockets and designers who remember to include them are richly rewarded.
This can be paired with her oversized grey sweatshirt (£35). This outfit is seriously comfortable and can be worn for any sort of exercise.
Marks & Spencer has a Dream Team loungewear suit, which is basically daytime jammies, but this could easily double as a "traditional" loose jogging suit and csots only £29.50,
Also, at M&S, is the Autograph pure cashmere colour block hoodie, £119.
Is a bit too nice for actively sweating in but it would be perfect for walking, keeping you comfy and warm.
The Goal
Keep going all year and this time next year the Nike sports bra (£27) will be the very first thing you buy to show off… and why not?
Stockists
Meggan Grubb clothing is available on ohpolly.com
Marks & Spencer has stores nationwide and at marksandspencer.com
Nike products are available in many outlets and online at nike.com