An Award-Winning Home for the 21st Century
RIBA's annual Henley Design Day takes place this month so Henley Life is showcasing the futuristic home that has recently won RIBA's 2018 South Regional Award.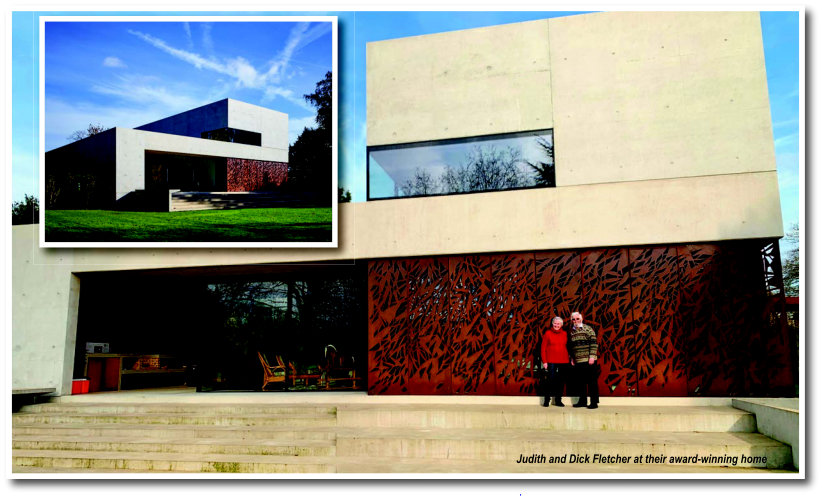 'Pheasants' in Mill End was designed by architects Sarah Griffiths and Amin Taha of Williams Griffiths Architects who also received RIBA's Project Architects of the Year award. Cindy Burrowes was given a tour of the property by its owners Dick and Judith Fletcher.Judith and Dick Fletcher inherited the original 'Pheasants' from Judith's parents and moved out to live from North London in 1991. Then it was a decaying 1956, five bedroom, cedar-clad bungalow on a glorious riverside plot.
Having sold their business, a children's software company, they decided to invest in a new building on the 1.75 acre, south-facing site bordering the Thames between Marlow and Henley. They were inspired by nearby Culham Court, a Grade 1 Listed Georgian mansion across the river, which in its day, would have been a radical design.
The Fletchers started the 13-year process in 2004 by exploring the local architecture firms.Then they decided to go further afield to find a really different design that was not of the traditional brick and flint of the area. In 2005 they commissioned RIBA to help find an architect to design 'a country villa for the 21st century' that would stand the test of time, be a family house, but support them as they entered old age. It was to be as much a permanent record of design and construction excellence as Culham Court.
Mentored by Teresa Borsuk of Pollard Thomas Edwards, they created short lists from 67proposals from around the world. "These were extraordinary, some of them were really radical, for example tree houses linked over the trees," said Dick who agreed that he and Judith, an artist, were totally open minded throughout the process.
The Fletchers created a final shortlist of 10 then they enlisted the help of friends and family to whittle this down to four. "Slightly disappointingly only one firm came up with something that was going to take account of the site," said Dick. " But that one design was quite impeccable.
"The winning innovative design respected the AONB rural setting, offered flexibility in use of space, and provided ease of access via level thresholds, wide, latch-less pivot doors and aground floor bedroom suite.Using modern materials and a green agenda, it was inspired by the scale, setting and classic design principles of Palladio's Villa Foscari: on a podium and in nine sections.
"They were a very good team -- young and keen and there was the imaginative, creative and the feet on the ground realist," explained Judith, who had previously imagined she would live in an Arts and Crafts home rather than one of concrete and steel.
However, the winning design drew considerable opposition from a neighbour and some conservation volunteers, and resulted in a four year legal battle, which ended in the High Court Planning approval was eventually won through the active engagement of Wycombe District Council's planners, RIBA ex-Presiden tMichael Manser, and CABE (CharteredAssociation of Building Engineers).
The Fletchers were keen that the construction was 'right, not quick' and that it was built around the existing mature planting.So the project was divided into two phases starting with a Corten-clad cross-laminated-timber gatehouse with studio, office, garage and one-bedroom flat. A contractor completed this in 2013 so that the Fletchers could live on site for the second, much larger phase of the work. Dick explained that Cortenis steel impregnated with copper, and that the laser cut designs were Judith's.
The Fletchers insisted on locally-sourced finishing trades directly employed under the supervision of a full-time project manager. This enabled the creative team to retain flexibility while insisting on high quality and attention to detail.
The Fletchers visited the local gravel pits to select the right colour for the concrete exterior of the house. Subsequently the concrete has a mellow, warm depth to it rather than a flat grey.
"The Concrete company we used had just finished building a white concrete staircase in the V&A," said Dick of Toureen Mangan.The couple are delighted and very proud of their home, but recognise the expertise and craftsmanship supplied by the individual trades. Many of whom were local to them.The immaculate kitchen, bathrooms and clever, handle-less doors were made by Langstaff Ellis, who recently sponsored the Henley House &Garden Show. Much of the metalwork was completed by JR Hill and Sons, a contract welding and metal fabricators from Rotherfield Greys. And Dick says they could not have completed the ambitious project without Southern Plant machinery and tool hire.
The Fletchers finally moved into their radical new house in 2017, and have not looked back. It looks like an addition to the riverside landscape that it inhabits, and it is a radical alternative of polished concrete, steel and glass. However, it is also a warm, functional home through which the natural surroundings feel as if they flow.