Addicted to water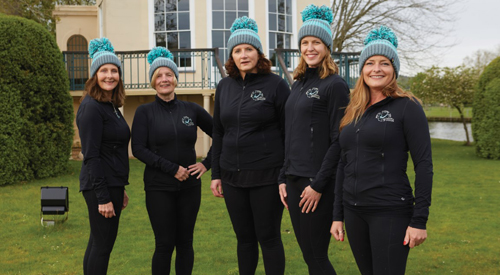 HOW would you cope if you were in constant pain? Take painkillers or antidepressants, or would you take up a new physically challenging sport?
It was no contest for Laura Reineke, a mother of three and director of Henley Music School, who began open water swimming five years ago to help her cope with fibromyalgia. This incurable condition causes widespread chronic pain throughout the body yet the cause remains unknown.
Laura, 49, believes it may even have started after she ran the London Marathon in 2018 to raise money for Parkinson's UK. "I had ongoing pain afterwards that wasn't diagnosed and they did tests for all kinds of things," she says.
Fibromyalgia was finally settled on, with its implications for poor mental health, chronic fatigue and disturbed sleep for the estimated two to four per cent of the population who suffer from it.
Laura, of Damer Gardens, Henley, found that Pilates classes helped but it was joining Henley Open Water Swimming Club that really made the difference. She says: "People think when they are in pain that they shouldn't exercise but that is just not true. "Gradually, as your body releases endorphins, you start to enjoy it and get into a good routine.
"When you are in pain, you're not sleeping properly and you get really grumpy and miserable but go and get in that river and everything just gets better again."
If you were wondering why open water swimming has suddenly become popular, Laura gives you all the evidence you need. She says she became completely addicted.
"Even if the pain doesn't go, swimming distracts you from it and you can roll with it rather than being stuck with it," she says.
"You feel alive – that is it in a nutshell." Exponents of the sport can't praise open water swimming enough. Even Lord Byron was a fan, famously swimming many miles to cross the Hellespont from Europe to Asia in 1810. Today's advocates list the benefits of weight loss as the cold water speeds up metabolism and the endorphin release, which enhances mood and reduces anxiety. Add in a sense of achievement and a feeling of being one with nature and you might even be tempted to take the plunge yourself.
But the big bonus for Laura was the friendships you make. She became one of the Henley Mermaids, a group of five women who have turned their hobby into a record-breaking and headline-hitting pursuit. To date they have swum the 23-mile Channel in relay, raising more than £35,000 for the music school.
Last year they battled against the cold, the dark and the jellyfish but narrowly failed to cross the Bristol Channel, a 45km stretch of water between Swansea and Ilfracombe. Adverse tides meant they couldn't complete the swim and they had to call off a second attempt. But the group of Laura, Jo Robb, Joan Fennelly, Susan Barry and Fiona Print still managed to raise a staggering amount for charity.
"And we are still the best of friends," says Laura. Now the Mermaids have their swimming goggles focused on more challenges for 2022. In July they will make their third attempt to cross the Bristol Channel in aid of Surfers Against Sewage before tackling the 104km from the source of the Thames near Lechlade to Henley.
Laura and Joan will also attempt to swim the 34km North Channel between Ireland and Scotland later this summer. And this month Laura's attempting to complete the 7.5km Freedom Swim in South Africa from Robben Island, where Nelson Mandela was imprisoned, to Cape Town.
Laura says: "To train, I swam in the pool three times a week and in the Thames twice. I also did high intensity interval training and spin classes. "To be swim-fit you need to be very strong-minded because you are in the water for a long time and the conditions can be dangerous.
"I am excited but also terrified. Even though it is off the coast of South Africa, the water is surprisingly cold – not to mention it is the habitat of great white sharks."