An unbridled passion for leather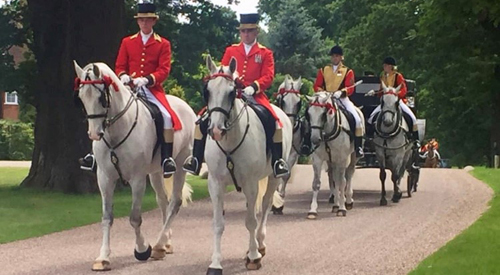 Amanda Stewart chats to Henley craftswoman, Frances Roche, Master Saddler at Buckingham Palace
As I travel at the speed of a "married man's canter" out of Henley town centre (that's a very safe speed for the nonhorsey) I soon arrive at the home of Frances and Tim Roche and their friendly Lurcher, Rye (which they tell me is Romany for "gentleman").
Admiring the stunning autumnal views overlooking the Hambleden Valley, Frances and I chat about her incredible career. Frances Roche MVO has been the Master Saddler at the Royal Mews, Buckingham Palace, for the last 23 years and I am keen to find out more about this esteemed craftswoman.
Frances served on the executive committee of The Society of Master Saddlers UK for more than18 years, and was their president in 2007. She has also served on The Saddlery Saddler at the Royal Mews.
"When I am at the mews, I aim to leave home no later than 5.45am in the morning with the ever-loyal "Rye" by my side.
"Fortunately I do have parking so that makes life a little easier. I do love my work, and recently I glanced around my office/workspace at the Royal Mews (which is situated to the left side of Buckingham Palace) and I realised that most of everything I could see could be attributed to my 'handiwork'.
"There must have been more than 50 sets of harness."
Frances explains she is due to retire from the Royal Household in just over a year, so she is currently part-time at Buckingham Palace and, for the remainder of her time, she runs a small saddlery business, Windsor and Henley Bridles, at her home in Henley. Like many jobs, hers is dependent upon season or Royal diaries. State visits of course are serious occasions as they require a great deal of splendour and pageantry, although Frances admits Royal Ascot is quite possibly her favourite event of the year. Ever keen to pass on her knowledge and skills, Frances sometimes teaches bridle making skills at the Saddlery Training Centre in Salisbury, and is the Society of Master Saddlers Course leader for their new City and Guilds Qualification in bridle fitting. She explains that these days equestrians are more and more interested in the welfare of their horses, and it is not just saddles that must be fitted properly, but bridles too, as they also affect the horses' comfort, and can even enhance their performance, so should be professionally fitted. So are there any negatives to this type of work I ask her?
"Well, in my private business I also make military sword belts, Sam Brown belts for Savile Row tailors, and bespoke bridles for other clients and top dressage riders.
"It is not unknown for me to become so engrossed in my work that I forget to invoice or keep explanatory notes about my work which Tim (Frances's ex Irish Guard husband and bookkeeper) does sometimes find this well, er, a little tiresome."