Art for the home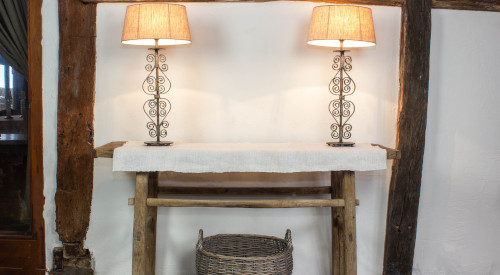 Artistic and decorative items are how a personal taste or character is imbued in a home. But art is a tricky one, not only because it is so subjective, but also because it can be hard to know where to start in finding something for a particular space.
Two local art experts with years of experience between them have teamed up to provide an art finding service.
Alex Hammersley and Sarah Percy-Davies have formed The Hollandridge Group, named after the eponymous Anglo Saxon path that runs between their homes between Christmas Common and Pishill.
Alex Hammersley Art has been finding and promoting new artists for many years, while Sarah Percy-Davies was an auctioneer, specialising in mid 20th century work. They will be holding an exhibition at Bix Manor this month, in conjunction with Louise Hall Decorative.
Hollandridge's sculptures, photographs and works in corrugated iron, oils and charcoal range in size and cost from £200 to £4,500
and are produced by both established and discovered artists.
"We are currently doing a lot of work for private individuals but also some corporate business, such as an accountancy firm with a
swanky new office and the newly launched Great Scotland Yard Hotel," explains Alex Hammersley,
"We can put together a portfolio of artists according to a person's tastes and needs and if we need a specialist we bring them in under the Hollandridge umbrella, so we can be very versatile."
Louise Hall Decorative is also the union of two friends, Louise Hall and Gerardine le Blanc. Together they source original items for the garden and home from all over Europe and Scandinavia. Their decorative art weekend will combine antique furniture and decorative items, outside planters and statuary as well as the contemporary art for sale, examples of which are shown here. The Louise Hall Decorative with The Hollandridge Group Open Weekend is on Saturday September 21 and Sunday 22 at Bix Manor, Bix, RG9 4RS from 10am to 5pm.
From then onwards viewings can be by appointment through www.louisehalldecorative.com and www.thehollandridgegroup.com.