Blenheim... the ultimate movie palace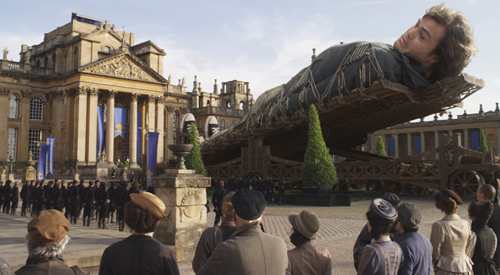 Blenheim Palace isn't only one of the UK's most popular visitor attractions, it has also had a starring role in some of the biggest movie blockbusters.
The Oxfordshire UNESCO World Heritage Site has been featured in a host of hugely popular films ranging from Harry Potter and The BFG to James Bond and Mission: Impossible.
Most recently the palace stood in for Buckingham Palace in the upcoming feature film Dolittle starring Robert Downey Jr and Emma Thompson. The baroque palace's famous steps are even featured in the trailer with Dr Dolittle riding up them on an ostrich.
Now there's the chance to go 'on location' and discover the real-life movie sets with the Blenheim Palace Film Trail. Visitors travel from around the world to visit the iconic tree where a young Severus Snape sat in Harry Potter and the Order of the Phoenix and scenes from Cinderella, Entrapmentand the quintessentially English detective series Inspector Morse were all filmed at Blenheim. The interior of the magnificent palace has appeared in Mission: Impossible Rogue Nation, A Little Chaos, The Libertine and Half a Sixpence while the formal gardens and 2,000 acres of parkland featured in James Bond's Spectre, The Young Victoria, Gulliver's Travels, Fan and The BFG. The palace itself has been set on fire, been the scene of mass dancing, feasting, intrigue and murder and was even the location of Victoria Beckham's Walkers Crisps advert!
Action film aficionados should look out for chase scenes from Transformers: The Last Knight while Disney lovers will recognise famous sequences from Cinderella and Gulliver's Travels.
The opulent State Rooms were the perfect setting for the historical romance, Young Victoria and for Bollywood fans the sixth highest grossing film, Kabhi Khushi, Kabhie Gham (Sometimes Happiness, Sometimes Sadness) was also shot at the palace with fabulous dance scenes all filmed in the Great Court. British TV shows including The Hairy Bikers, Building Britain, Phil Spencer's Stately Homes, Songs of Praise and Antiques Roadshowhave also all used Blenheim Palace as a stunning backdrop.
The Film Trail is available for free download via www.blenheimpalace.com/filming