Chalk of the town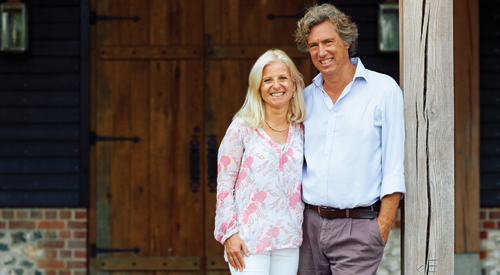 SEARCHING England for the perfect vineyard to produce world class sparkling wines, Stephen and Fiona Duckett found the Stonor Valley's chalk soil a perfect match to Champagne's Côtes des Blancs.
IF you have ever sipped Champagne in the Côtes des Blancs, or toured the glittering Champagne houses of Epernay, then you'll know that chalk goes an awfully long way down.
In Champagne, where the chalk reaches at least 200m underground, grapes have flourished for centuries because this nutrient-poor, porous soil forces the vines to struggle and produce fine fruit while retaining enough water to nourish vines, even at their most stressed in the driest of summers.
The sparkling wines grown in this hallowed French chalk have kept us British happy for decades and over the past 20 years, English winemakers have searched for similar chalk soils in which to plant the notoriously delicate Chardonnay and Pinot Noir grapes that produce fine sparkling wines.
With warmer summers, the perfect vineyards for creating Champagne's vibrant summer fruit aromas and that tell-tale lingering taste of toasted, buttered brioche have shifted north.
In 2009, Fiona and Stephen Duckett began hunting across southern England for the perfect chalk valley in which to produce fine, sparkling vintage wines. It was a search that ended three years near Henley.
The Ducketts had always enjoyed fine wines as their careers took them around the wine world and it was treasured moments in the company of fine wines and artisan winemakers of Champagne, Burgundy and California that made the couple dream of the opportunities to share their second careers together.
They wanted to launch their own sparkling wines and with Fiona's fluent French and charming nature, she persuaded the former Louis Roederer Champagne maker Dr Michel Salgues to help them.
Together, they tested soils from more than 100 potential sites.
"We were prepared to move anywhere in England," recalls Stephen, whose family have been farming in England since the days of the Norman Conquest. "But great wines are made in vineyards, not in wineries, so we needed the ideal vineyard site."
While Stephen was busy training as a sparkling winemaker under the watchful eye of Dr Salgues, Fiona was liaising with the Charcenne nurseries and Burgundian barrel-makers to source the finest Chardonnay and Pinot rootstocks and oak barrels for the wine.
Then experts who tested a chalky soil sample from the Stonor Valley and asked Dr Salgues: "Where specifically in the Côtes des Blancs is this from?"
Fiona and Stephen had found their holy grail just outside Henley, their setting for The Winery at Hundred Hills, where the chalk runs 160m deep.
The land was part of the Pyrton Hundred pastures that lay untouched for 400 years with the last known planting (of peas) in the 16th century.
In 2014, the Duckett family, together with an experienced team assembled by Dr Salgues, planted more than 60,000 vines across 42 acres of fallow land – today there are 84,000 vines.
Surrounded by ancient woodland, Hundred Hills' vineyards sweep dramatically across the Stonor Valley in a natural amphitheatre of vines, rising to hilltops at 180m.
Sustainable viticulture is now a way of life. Hundred Hills shares the findings of its sustainable VineSignal project with Europe's winemakers. This low-orbit satellite data process monitors soil and climate changes and detects early signs of disease.
Fiona and Stephen have put sustainability first in designing their state-of-the-art winery.
The magnificent oak-framed building includes a tasting room for their wine club members and corporate guests. Bursting with light from an immense floor-to-ceiling window, the room leads to a balcony showcasing the staggering beauty of the vineyards.
When the first of Hundred Hills' sparkling wines were released earlier this year, the first Master of Wine says he tasted them with a little trepidation.
But the wines, which range from vintage Blancs de Blanc and rosés to vintage sparkling whites from individual parcels in the vineyard, blew him away.
Not only have other Masters and members of the UK wine press marvelled at the crystalline quality of these sustainably-produced wines, but the aromas - the buttered brioche, the creamy mousse and the longevity of these fine vintage wines - are all there, just like their Champagne counterparts.
Hundred Hills' wines are drawing in owners and sommeliers from Michelin-starred restaurants such as Raymond Blanc's Le Manoir aux Quat'Saisons, royals' favourites The Goring and The Connaught and award-winning Crockers in Henley.
Since Hundred Hills' first harvest in 2016, the microclimate of the Stonor Valley has enabled the grapes to ripen on the vine for more than 100 days each year, so the grapes benefit from those last few days of warmth before autumn takes hold.
Fiona and Stephen believe that making pure vintage sparkling wines reflects the most natural expression of their grapes as time passes over the vineyard.
"Every bunch is handpicked and only the finest grapes are selected," says Fiona.
Selection continues in the winery with only the best presses chosen for the base wines before lees-aging takes place.
Wines spend up to 30 months in oak before following the traditional method of sparkling wine to produce that all-too-satisfying "pop".
Fiona and her daughter Amy have led the development of a prestigious brand in Hundred Hills, which is fast becoming known as the most exclusive vineyard in England.
As owners of an award-winning winery – and now holders of a demanding sustainability accreditation for both the vineyards and winery – the Ducketts are setting a new standard for English wines.
It is unheard of for a flourishing English vineyard and magnificent winery to have passed under the radar of the world's wine critics for almost 10 years.
Yet Stephen and Fiona didn't shout about Hundred Hills because they wanted to wait until the wines from their first harvest in 2016 were ready. The result is sensational and the future for Hundred Hills looks sparkling.
A fine, long-ageing vintage sparkling wine has been a long time coming for England. It has been helped into existence by the talented (and now late) Dr Salgues, whom Fiona and Stephen feel indebted to.
Through bringing modern craftmanship to every activity in the vineyards and winery, the Ducketts have set the wine world talking - and it's happening right here in Henley.
Wine club membership

MEMBERS of the Hundred Hills Wine Club will have exclusive access to one of the top vineyards and wineries in England.
For an annual fee of £600, members receive their own tour and tasting for up to six people, an invitation to a pre-Christmas drinks reception, 12 bottles of Hundred Hills vintage sparkling wines per year and a 15 per cent discount on future wine purchases.