Checking out Chelsea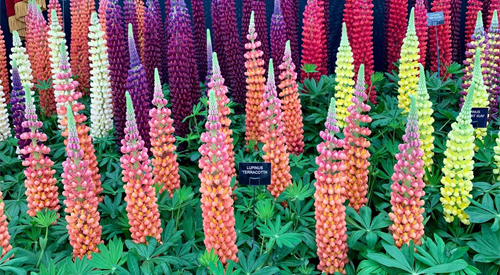 The Brits love their gardens and nowhere is that more obvious than at one of the Royal Horticultural Societies (RHS) flower shows. Last month saw its most famous, Chelsea, take over a glorious week in London and Henley Life's Cindy Burrowes reports back on why it's worth its weight in gold.
Chelsea Flower Show always seemed to be part of 'The Social Season', and was often referred to as an event at which to be seen. That may be true for the VIP day and the Gala Evening before the first public day on the Tuesday of the third week in May. However, I have only ever been on the Tuesday as a paid up member of the RHS and all I ever notice is the plants. I love my garden, but I'm no gardener (chuck it in and see what happens is my motto). What I love about Chelsea is standing shoulder to shoulder with real experts and enthusiasts in the field. This year was no exception and in fact, was a much more exciting and packed show than my last visit in 2017. The flower of the moment seemed to be the Lupin (Lupinus), pictured, although there were a lot of Irises and Peonies (Paeonia) in the show gardens. The transcending theme was, unsurprisingly, sustainability and this was reflected in the winning show garden, The M&G Garden designed by Andy Sturgeon. This green, lush and quite beautiful garden was inspired by nature's ability to regenerate, and it featured a range of pioneering plant species from around the world that would grow and thrive in the British climate.
The Savills and David Harber Garden was a woodland clearing in a city garden showcasing bio-diverse large trees and an air-purifying wetland area. Everywhere you looked was upcycling, sustainability and innovation in a stunning setting. This was even so in the usually traditional Great Pavilion where Ikea had teamed up with designer Tom Dixon to create a magnificent show garden to encourage health and sustainability with affordable and innovative food growth and distribution. The lights, machines and technology were growing tray after tray of food in every available space.
The Great Pavilion gave me the joy of finding the plant I have been looking for -- Night Phlox (Zalusianskya Ovata). This tiny, South African plant was shown to me by the head gardener of a hotel many years ago and I forgot the name. So it was such a joy to find it on the beautiful Kevock Garden Plants stand, all the way from Scotland. Again, the joy of meeting people immersed in their horticultural world is so uplifting – and they are always so willing to give their time and expertise. For anyone who hasn't been to Chelsea I would recommend it. Plan your visit well in advance (I think tickets come out in October) get there when the gates open and immerse yourself in all those gardens. Having said that, there are many other RHS flower shows in beautiful settings– all brilliant for plant lovers.