Discover a wealth of artistic talent on the Henley Arts Trail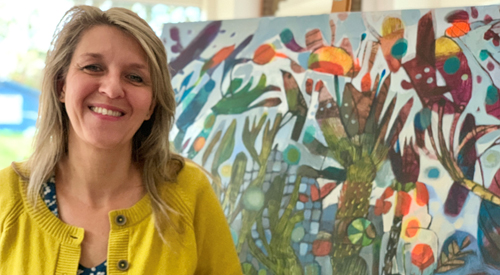 With the Henley Arts Trail making its annual appearance at the beginning of May, we are showcasing two of its most longstanding and successful artists, jeweller Wendy Penrose and painter Este MacLeod (pictured above).
This year's annual artistic journey of the area kicks off with a Grand Opening on Friday April 26 at the Old Fire Station Gallery from 6pm to 8pm. There follows a weekend of open art studios and workshops.
With nearly 300 artists and makers at 33 venues, the Henley Arts Trail 2019 is the largest to date. Now in its 14th year the trail regularly attracts more than 10,000 visitors over the early May bank holiday weekend. From Bix in the north through to Shurlock Row in the south, the trail sees the doors of artists' studios, garden sheds, garages and village halls flung open to reveal the wealth of artistic talent in the area.
From skilled amateurs to award-winning professionals, the trail covers the full gamut of arts and crafts.
Larger than life sculptures sit alongside delicate jewels; abstracts are juxtaposed against detailed botanical art. All venues are free, with no obligation to buy, and artists will welcome guests to chat about their work often over a refreshing cup of tea... or even cake!
For the full brochure including a map of venues go to www.henleyartstrail.com
Wendy Penrose
Wendy Penrose designs bespoke jewellery in her garden workshop near Henley. Her signature pieces have bold, organic forms with rich texture and are all handmade in precious metal. Her contemporary style and love of nature is reflected in the strong organic forms that she creates. However, Wendy has also begun to work in an alternative direction in that she helps people breathe new life into heirloom jewellery, which often has sentimental value, but is old fashioned for the person who has inherited it.
"Heirloom jewellery has such emotional connections but is often not worn.
"The challenge is to redesign and bring it back into every day life with all its positive associations," said Wendy who regularly takes on such projects.
"I don't simply re-set stones or repair jewellery, but instead work with my clients to create new, unique, wearable works of art."
It can be difficult to find someone to provide this service but Wendy's design knowledge and breadth of experience mean that she can see the modern pendant in a Victorian lapel brooch, or the everday diamond stud earrings in a dated necklace.
To watch Wendy at work and find out more about her silver clay workshops visit her at her studio, Venue 11 on the Arts Trail www.henleyartstrail.com or go to www.wendypenrosejewellery.co.uk
Este MacLeod
Este MacLeod is another star of the Henley Arts Trail and this year has something else to celebrate. The Crate and Barell homestore in the USA has turned her artwork into housewares, making her an international name. Her bright, sub tropical designs have been replicated on bowls, spoons, ceramic and textiles for the US.
Este herself produces original paintings and cards for sale and her work is in numerous private and public collections including Chatsworth House and the South African Parliament.
Este studied textile design in her native South Africa before making her home here and working as a ceramacist, jeweller and painter. Her distinctive style is deep-rooted in her native Pretoria with geometric, sub tropical flowers, foliage and birds. Previous work includes landscapes and still life.
Este works constantly, all over her home, and she says she is never without paper and paints no matter where she is on her travels.
"I started painting when I was two, and I haven't stopped. My parents knew I was happy if I had paper and paints," she said. She now passes on her considerable experience in the many courses she teaches. "I am all about colour," she says, standing in front of her latest jungle landscape design.
Este will be showcasing her work at her Charvil home, Venue 22, on the Henley Arts Trail. www.estemacleod.com