Dr Elizabeth Lawson: I have the best job in the world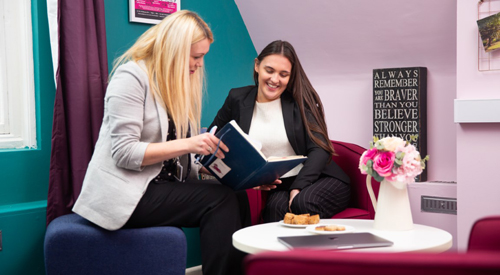 "Being Head of OLA 6th is the best job in the world. I am surrounded on a daily basis by kind, brave and incredibly focussed students. There's a very special partnership between OLA students and their teachers that makes leading OLA 6th such a special experience."
Dr Elizabeth Lawson started her career in education lecturing in universities, but soon realised that the most rewarding part of the job was the seminar teaching when she could closely engage with the students and feel that she was really making a difference to their learning – a career in secondary school teaching felt like the natural move to make.
Mum to 5-month old and 7-year old boys who keep her very busy! Dr Lawson and her husband Tim live at Radley College where he is a housemaster – so education and pastoral care is embedded into their daily lives.
"The future of OLA 6th is looking incredibly bright and I am excited about continuing to broaden our enrichment programmes whilst continuing to lead our nurturing and thriving sixth form."
What makes Our Lady's Abingdon different? We are a small school, big enough to offer a wide range of subjects and activities, but at the same time small enough to mean that every child is known, valued and cared for from the moment they join us to when they finish their school education.
The size of the school also means pupils have every chance of being given regular opportunities to represent OLA in a wide range of activities.
The co-curricular experience we offer is not just an 'add on', but an essential part of day to day school life. All pupils are encouraged to take part in a wide range of confidencedeveloping activities, including sport, drama, art, music, academic competitions and more.
There is a large number of clubs, both at lunchtime and after school, and many academic and extracurricular trips. The Duke of Edinburgh's Award is very popular, drama and art particularly strong and our musical productions legendary.
Our class sizes are deliberately kept small, reflecting our excellent pupil/teacher ratio. This applies to all year groups, ensuring that children receive individual attention throughout their time at the school. Our teachers ignite pupils with fun and innovative learning, ensuring that they are fully engaged in the academic life of the school. The excellent results they achieve flow naturally from this.
We are not an exclusively selective school, yet many of our pupils exceed expectations across the board. Particularly important here is the 'Value Added' OLA gives. 'Value Added' assesses what pupils achieve against baseline expectations. The Department for Education ranked OLA in the top 5% of the country for Value Added, an exceptional achievement.
What OLA is most famous for is our outstanding system of highly praised pastoral care, which is at the centre of everything we do. At our last full Inspection, our pastoral provision was rated as 'excellent', the highest grade that can be awarded.
As a Catholic school with a strong Christian ethos, we welcome pupils of all faiths and none, creating a real sense of an extended family made up of teaching staff, pupils and parents. We see each child as a unique person, with gifts and talents to be nurtured, developing in our pupils such key qualities as integrity, compassion, co-operation and courage. www.ola.org.uk
Our Lady's Abingdon School
@olaabingdon
www.instagram.com/olaabingdon
E admissions@ola.org.uk
W www.ola.org.uk