Flower power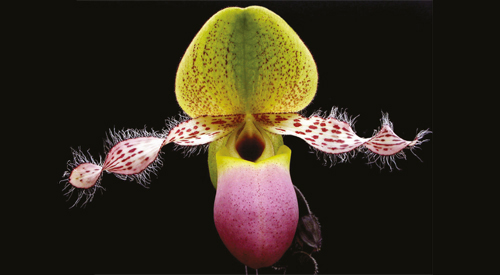 DO you remember that episode of Midsomer Murders where members of an orchid society started murdering each other over their prized plants?
The story went that the Midsomer Malham Orchid Society was caught up in an international smuggling ring, with the rarest orchid changing hands for £150,000.
If you don't much like orchids, this all sounds ludicrously farfetched.
But if you're a fan you might just understand the passion they can evoke.
Orchid grower Claudia Whales can. Her family has been involved with orchids since before she was born and her dad just happens to be the only surviving founder member of the Thames Valley Orchid Society (whose members, I'm sure, don't go round murdering each other).
"I was born into it and it's in my blood," says Claudia, 52, who is originally from Brightwell-cum-Sotwell.
"My grandpa Ronnie Ratcliffe started growing orchids as a hobby before the Second World War. My grandparents grew roses commercially but during the war their rose fields were dug up for the Grow Food for Britain campaign.
"There were heated glasshouses where grandpa grew cucumbers but behind them were his beloved orchids. They brought him such pleasure during the war that he decided to carry on with them commercially and so Ratcliffe Orchids was born."
Claudia's parents joined the business and Ratcliffe Orchids became one of the biggest names in orchid growing with a worldwide reputation. Claudia says:"During the Eighties the orchid world was booming. We had a display house in Chilton, near Didcot, called the House of Orchids and a shop which was open seven days a week.
"Although mum and dad are now retired and Ratcliffe Orchids closed in 2017, dad is still active in the orchid world.
"I am proud to say that he received his long service medal from the Royal Horticultural society in 2020 when he celebrated 50 years of being a member of the RHS orchid committee."
With wonderful symmetry, the production team on that very episode of Midsomer Murders, entitled Orchis Fatalis and available on the ITV hub, came to Ratcliffe Orchids to borrow plants for the programme, part of which was filmed in Oxford's botanic gardens.
Claudia says: "The film company approached several people in the orchid world for advice and also to borrow their plants.
"However, the rare orchid the story was about was a fake – it does exist but there just wasn't a real one in flower at the time of filming."
The orchid family is actually the second largest family of flowering plants with around 26,000 species distributed in almost every country in the world, all prized because of their rarity.
Claudia says: "Britain has the most beautiful, tiny, delicate native orchids and in the next few weeks, through to late autumn, our countryside will be a show of these protected species if you know where to look. Just remember that our British native species are protected so if you do see any please admire and take photos but do not touch.
"If you talk to the Thames Valley Orchid Society there may be some guided walks you can join and your eyes will be opened to a totally new world."
The houseplants you may have on your windowsill are, however, commercially grown and, according to Claudia, fairly easy to look after if you have the right information.
"Unfortunately, most people we meet say, 'I can't grow orchids, they die on me," she says.
"Most people buy their orchids from garden centres or supermarkets where they have probably been kept too cold, too dry or were over-watered.
"You then buy your plant, the flowers drop off and eventually it dies and you think it's your fault.
"You need to come to the right people, buy a healthy plant and be guided by the experts on how to look after them."
So what is the appeal of orchids?
"It's their beauty," says Claudia. "Some are fragrant but they are all stunning to look at and they demonstrate nature at its most beautiful."
Perhaps you'd like to join the Thames Valley Orchid Society and find out for yourself why orchids can be so addictive.
Meetings are held on the third Friday of each month at St Peter's Church in Marlow and membership costs £28, £38 for a family or £20 for Zoom only.
For more information, email mtalbot@talktalk.net