Full of beans and feeling good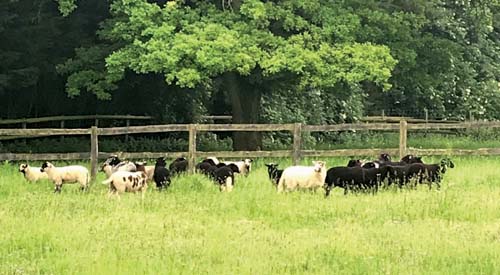 THIS month is Veganuary, when campaigners hope to introduce as many of us as possible to eating only plantbased food. But how easy is it in practice to cut out meat and dairy from our daily diet?
Amanda Stewart meets some people who have made the move to meat-free.
CELEBRITIES with private chefs may well extoll the virtues of veganism but for the rest of us?
One thing's for sure – it makes it much easier if the whole family is on board.
For Peter Hopkins, a senior partner with Mercer's Solicitors in New Street, Henley, the trigger was when his son, Ed, turned vegan after leaving university.
He explains: "It's hard to do it alone at home so my wife Caroline and I agreed to change together as we learned more about it."
The family threw themselves into finding out as much as they could about the subject.
Peter attended the Reading Vegan Festival, learning there were already an estimated 1.5 million vegans in the UK.
He says it made him feel part of a growing movement of people who were "doing the right thing". But for animal lover Peter, the most convincing reason was to stop the unnecessary slaughter of animals for food.
He says: "Pigs are more intelligent than dogs. How millions of sentient animals are reared in cramped spaces and slaughtered just because we like the taste of their flesh is appalling.
"There's a reason why slaughterhouses don't have glass walls."
He learned a lot by watching Eating Our Way to Extinction, available on Amazon and YouTube, and he encourages others to see it, too.
"Fish contain micro plastics and mercury," he says. "Farmed fish are eaten alive by sea lice and animal agriculture is destroying rainforest as it is cut down, while tribes are forced off their land by
farmers with guns to grow soya and for grazing beef cattle."
Peter also challenges the idea that veganism is somehow both unnatural and unhealthy.
He says: "Some people think vegans lack protein and ask where we get it from. Simply, we get it from plants.
Gorillas, elephants and oxen are strong yet they only eat plants.
"Our eye teeth are useful for nuts, not tearing flesh, and our long gut is for digesting plants."
Peppard businessman Ian Thrustle, who is married with two children, discovered another compelling reason for turning vegan two years ago – he lost a stone in weight in just six weeks.
He says: "The idea of going vegan wasn't on our agenda and had never even been discussed in our busy household.
"And as far as I was concerned, people who didn't eat meat were a bit of a faff when you invited them round for dinner."
Ian and his wife Tracy were won over by a delicious plant-based curry they enjoyed at local restaurant the Greyhound, which is run by celebrity chef Antony Worrall Thompson.
Ian says: "We were hooked but the plan wasn't to go vegan forever but just to try it and see if it worked for us."
He and Tracy bought some vegan cookbooks and came up with a list of recipes they liked the look of.
The couple found their new menu rather exciting.
"We made nut roasts with gravy, Yorkshire puddings, sausages, stews and curries," says Ian. "The food was good and we didn't miss meat.
"We found the meals took much longer to make in order to get the flavours right.
"Then we went skiing in France and switched to vegetarian for the week as we found that France didn't really cater for vegans."
The couple have since ditched veganism but are still vegetarian two years later and Ian says they don't think they'll return to eating meat.
Some of the weight has crept back on but a recent medical for work showed he had a higher level of good cholesterol and a lower level of bad.
Worrall Thompson agrees we should all cut down on the amount of meat we eat and ensure when we do that it is from grass-fed animals, where possible.
He says: "We can also eat more correctly sourced fish and eat more vegetables but should beware that not all vegetables are all they're cracked up to be.
"A huge percentage of our vegetables, grains and soya-based products are imported, which doesn't help the carbon footprint."
He cites the importation of avocados from Mexico, New Zealand and Spain, almonds from California, oranges, bananas and pineapples from the Tropics and French beans, mangetout and sugar snaps from Kenya.
He says that now we have left the EU we should "back Britain" by the way we shop, cook and eat.
"If we can turn our backs on cheap goods from China, poor meat from some parts of Europe and beyond, often with very poor farming practices, fruit and vegetables from distant lands, we can all do our bit for the planet and help our farmers to survive these tough times."
One such farmer is Tracey "Bill" Betteridge, who is manager of the Henley Farmers' Market, which is held in Market Place on the second Saturday and fourth Thursday of the month. She raises rare and native breeds of sheep on conservation wildflower meadows for the Chiltern Lamb Company.
She says: "Grazing livestock are a seriously important link in our environment and if we don't breed and eat some of these they will simply die out, like so many have already.
"With grazing comes a hugely diverse, species-rich environment, providing habitats for barn owls and dung beetles.
"As farmers, but also as a nation, we have a responsibility to protect all the environment, including the eating of meat, so maintaining the links in a far larger picture."