Headmaster with a vision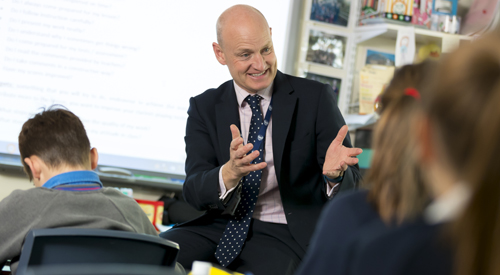 Rob Stewart, headmaster of The Oratory Preparatory School, knows a thing or two about education. He has been in the education system for more than 22 years and, before taking up his current role, was house master at Eton. Here, he talks about recent developments at the Oratory Prep School, including the acquisition of the school by Bellevue Education in November 2019.
Bellevue Education was founded in 2003 by Mark Malley, himself a former prep school headmaster, and now owns more than 20 carefully chosen independent schools in the UK and Europe.
Rob says: "Joining Bellevue represented an amazing opportunity for our school; Bellevue recognised that The Oratory Preparatory School has a clear vision and an excellent track record for providing an enriched education to boys and girls aged two to 13, and we recognised in Bellevue a partner which could provide us with strong support and access to many best practices, including exceptional standards in teaching and learning as well as in pastoral care."
Since joining the group, a range of plans has been put in place for enhancing both teaching and learning and IT provision, as well as investment in school facilities; among a number of planned improvements on the agenda, are new changing rooms. While the benefits of being part of this group of exceptional schools are clear to see, Rob is keen to stress that the vision, ethos and educational approach of OPS, of which he is justifiably proud, remain the same.
This sentiment is echoed by Bellevue whose CEO Mark Malley said: "Bellevue and OPS share the same values and commitments, namely to provide an educational environment that challenges, nurtures, excites and involves every single pupil."
Rob goes on to say "The school has always been and continues to be committed to offering an inclusive, broad and diverse education aimed at developing each child; we will maintain our goal to continually progress and develop all aspects of our already outstanding and exceptional school.
"Being part of Bellevue gives us access not only to investment in resources, but also to support and guidance from the governors, all of whom are educationalists with extensive backgrounds in school leadership."
2020 has started well for the school as it continues to go from strength to strength, welcoming more than 20 new pupils this term. Well known in the local area, The Oratory Prep School is set within 65 acres of Oxfordshire countryside, and alongside a broad curriculum boasts an enviable provision of arts and sport; last term alone there were more than 400 fixtures, and the girls' hockey team reached the National Schools Quarter Finals. Every year Year 8 leavers are successful in gaining places at a wide range of senior schools, both locally and further afield. The school is holding open mornings on February 5,6 and 29.
Visit www.oratoryprep.co.uk for more information. To find out more about Bellevue Education visit www.blvue.com