Henley's Women in Film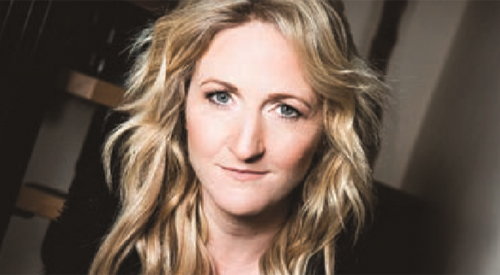 Jo Southwell is an acclaimed Henley film director who, among other things, set up the Henley Fringe Festival and the Henley Film Festival. She talked to Henley Life's Cindy Burrowes about her recent success and the challenges of being a woman in the film industry.
Jo Southwell is a very familiar face on the Henley Arts and Culture scene, where she has been working away for 12 years. In that time she has moved from actor, to agent, to script writer, to producer, to director and has made no fewer than nine short films. One of these has been the catalyst to her recent success in a notoriously difficult industry, particularly for women.
Her short film Entrance no Exit is a comedy drama set on an airplane. She crowd funded to make it and then entered it for, That Film Festival where it was screened at Soho House in London, the Marbaya Film Festival and the Cannes Film Festival. From these screenings Jo found herself, to her total surprise, on a shortlist of seven directors worldwide as a finalist for a director's competition run by the Berlin Film Festival. The prize was a whopping £1 million film production package. This was exciting enough for Jo to attack the near impossible challenge of making a film from a set script in three weeks. She did it, with the help of producer Rachel Gold, in two weeks at Pinewood Studios in Bray – and was suddenly in the top three contenders for the prize.
After a 'frenzied' 48 hours in Berlin of media interviews and introductions there was a widely covered gala screening of the films. "I came third overall, which I was happy with. It opened a lot of doors for me. I am so glad I did the Berlin competition because it has pushed me into a new place," said Jo. "I was supported by various funding bodies and producers in order to get me there."
Directors UK is the director's equivalent of Equity explained Jo, who is one of their members. "They are very much trying to support female directors to break in at a higher level and just trying to be seen by people. Nobody seems to be really getting anywhere, I have absolutely no doubt that some of them hit the mark, but the industry is really hard."
Although she herself feels she has been fortunate in a practical sense in juggling her work with her home life and being a mother. "I have been very lucky that most of my locations have been very doable, but that is the nightmare side of the industry - 12 hour days away from home."
However, Jo has a passion for visual storytelling, and she knows unequivocally that she is the one that has to make her dream of directing a feature film happen. To that end she has spent the last 18 months pushing her highly acclaimed short films and, from Berlin, networking with the right people in the right places. Jo's dream feature film directorial debut would be her own creation, Deirdre of the Sorrows, expanded from her short film of the same name. "It is very much a big Irish film, the folklore is Irish and I have an Irish background," said Jo. "I really love contemporary films that have that mythological content to them." She says this is a film that will resonate with everyone, however she stresses just how hard it is get funding and support for a feature film which on average takes seven to 10 years to realise. Jo has received help with Deirdre and solidarity from the directorial community.
Henley-based director Catherine Morsehead, whose credits include Downton Abbey, The Hour and Dr Who, has had her whole career in TV, but is still pitching for her feature film after 20 years.
"She has always been a brilliant friend and a sounding board for me, she lets me come on set, and she would come on set with me for my shorts," said Jo who worked with her in re-scripting Deirdre. Directors UK selected Jo to shadow the director, Jon East on his hit TV series Killing Eve. This involved one-to-one training sessions, time on set and a part in the editing discussions.
"That whole process of working with a high-end TV drama with massive budgets opened up that whole world to me, and it is where I want to be now, " said Jo, who has also taken a book option on the crime novel Follow Me by Angela Clarke. This is now in development with Lion TV as a four part series.
"I feel really blessed that Lion TV have taken this idea I have, they watched my material and said yes, Jo Southwell is a director worth taking time with and they want to work with me on scripted drama." In the busy few months that Jo has had she has also directed a virtual reality short film for the Oscar-winning director of The King's Speech, Gareth Ellis-Unwin. She worked for the first time with a 360 degree camera filming herself directing a period drama, so in effect, directing two cameras.
"I think virtual reality films are actually breaking through, and the use of gaming technology is really crossing over into feature films. I really loved working in virtual reality. I think because I have a theatre background once I got my head round it, it was almost like an immersive theatre experience which I just found great fun."
She muses how ironic it is that although the ultimate goal for a director is a feature film, the work seems to be blossoming in TV, although there are still only a few female names at the top of the credits.