Jo Whiley: In a spin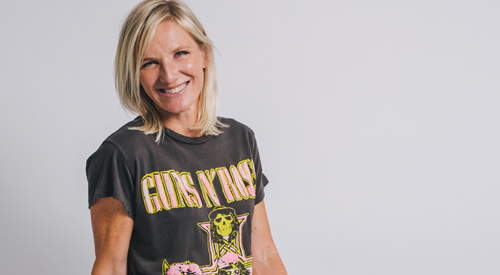 Jo Whiley was the ultimate 'rock chick', but she has also made rock history through the bands she has discovered and championed through a 30 year broadcasting career. This month she will be DJ-ing at the Henley Festival for the first time so Cindy Burrowes spoke to her about her expectations of her first Henley appearance.
Jo Whiley has to be the coolest, and calmest, mother of four who at 53 still hosts her own music show on BBC Radio 2, four nights a week, and is touring the country with her 90s Anthems DJ set. She will land on the Henley stage two weeks after co-hosting the BBC's extensive coverage of Glastonbury Festival 2019.
Jo will be playing her set on the Friday of the festival after the very popular Tom Odell has sung to his audience – and she herself is a big fan of his, having been an early supporter of his music.
Jo will be playing the 90s anthems that she loves to a sell-out audience, many of whom will have come of age to the music she champions. She is really looking forward to seeing the whites of a Henley audience's eyes.
"I am rather excited about Henley, I have friends who live nearby and they rave about it [the festival]," she said. "I think Henley is going to be very well dressed, and up for a party!" The hits she will play will cover all genres from the 1990s, "It is quite weird, it is so different from doing a radio show, because I can see the audience so its lovely to see a whole sea of smiley faces leaping in the air and dancing to great songs," said Jo. "It feels like a party at the end of the night."
Jo's career began, as a researcher for a youth culture show on BBC radio, before she moved onto Channel 4s The Word as a researcher where she unearthed bands including Nirvana and Rage against the Machine, giving them the exposure that set them on their way. When she moved onto BBC Radio it was the likes of Oasis, Blur, Pulp and then Coldplay, which she exposed to the listening British public.
"Doing their first session and their first interviews you see them when they are just starting out and then you're just dropping in and out of their lives and watching their success," said Jo. "And certain bands you just really connect with and then the interviews and chats are less scary, they feel at ease with me. It is a long relationship."
Jo feels solidarity with the bands she remembers at the beginning of their rise to fame and success, because they have known each other for years, and are still all enjoying the music. Her current tips on musical artists are the singers Yola, King Princess and Sam Fender, who won the Brit Awards Critics Choice 2019. A couple of fun facts about Jo include her former life as a championship swimmer, when she was a girl, and her love of gardening. So, hot footing from Henley Festival, Jo will then be presenting the BBC's coverage of RHS Flower Show at Hampton Court.
"I do a lot of gardening, do a little bit of presenting for Chelsea Flower Show, picking up lots of tips, asking them loads of questions," said Jo, who is always desperate to take the plants home with her. She likes Hampton Court for its relaxed atmosphere and the fact that you can buy plants to take home. She has her eyes on Malvern Flower Show next – when she is not playing music.