In the swim with Olympian Sharron Davies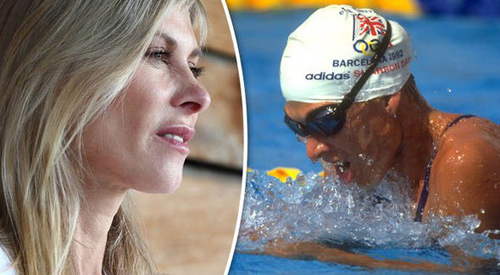 This month sees the grand opening of the Phyllis Court Club's new Health and Fitness Centre. To mark the occasion there will be an exhibition of sculptures by Jonathan Wylder, a friend of the club. One of his famous sculptures is The Mermaid at the Royal Yacht Squadron, Cowes. The model for this was his friend Sharron Davies MBE and it is this celebrated competitive swimmer who will be cutting the ribbon for the new Health Club. Henley Life's Cindy Burrowes spoke to her from her West Country home.
The statuesque Olympic medalist may not be spending six hours a day in the water anymore, but she is definitely not slowing down. In between her charity work, motivational speaking and her three children she is a strong voice on Twitter and still a swimming commentator. The girl from Plymouth burst into British consciousness at the age of 11 when she was selected for the 1976 Olympic Games in Montreal and at 15 she won two Commonwealth Games gold medals. In 1980 she won silver at the Moscow Olympics and by 1990 she was captain of Britain's 1990 Commonwealth Games squad, and again, came back with medals. Sharron retired from competition in 1994 and continued with her media career, including a stint as 'Amazon' on the TV Show, Gladiators. She was instrumental in the bid for the London 2012 Olympic Games and she has been at every games since she was 11 – as a competitor in three, and then a commentator. She still says: "Swimming is an amazing place to be."
However, the 56-year-old is no stranger to Henley as for many years she lived in nearby Berkshire, and she has been the guest of fellow, rowing Olympians at Henley Royal Regatta. She is delighted to be coming back to open something so close to her heart.
"Exercise is underrated -- it is incredibly important for the brain, great for mental health. It makes you more confident and is linked to better sleep, " said Sharron. "From the age of 50, one per cent of muscle mass is lost per year, so use it or lose it."
In terms of ageing and exercise, Sharron feels it is even more important, and it is vital to get specific advice, which is what the club offers, a personal assessment by a fitness professional. "As we get older it is harder, particularly on the joints, but pick a target and aim for it. When we go to the doctors pills mask the pain, but osteoarthritis does not go away, we have got to learn to deal with it, understand it, you need to keep mobility, strength and the cardio system going," she said. "You will be very surprised how quickly you can improve, personally. I think it takes about three months to get a really good habit – you have to push through and then you will do it for the rest of your life. Because you want the quality of life to be as good as possible." And she firmly believes that we all need to puff, pant and sweat to do our body good – a dog walk won't do it.
Sharron is obviously an advocate for the whole body benefits of swimming because it works the core muscles, and the cardio vascular system. But she advises that the muscles supporting the skeleton need to be strengthened, as we get older. She advocates using a gym, which provides the support and the encouragement to ensure that fitness is a long term goal rather than a fad. Sharron herself professes to be a country girl at heart and she now lives in the Cotswolds. However, she keeps in shape with cycling and the gym. "I am not swimming much now, my shoulders are a little bit knackered. In elite sport you just abuse your body and eventually it comes home to roost," she said, although all three of her children have competed to various levels.
Her children with former husband Derek Redmond, the Olympic athlete, are Elliot who is 25 and works in recruitment, and Grace, 20, who is studying digital marketing. She lives with her 12-year-old son Finlay, who loves to play rugby. Grace competed in track and field for England until injury stopped her athletic career.
"I had a very narrow, blinkered education so I made sure they had an all-round education and ultimately the decision is theirs," said Sharron.
A vocal presence on Twitter with 38.6 thousand followers Sharron has recently become a spokesperson against transgender women competing in women's sport. The current rules for an elite sportsperson are that the male athlete has to identify as female, and take testosterone-blocking drugs for a 12-month period prior to competing. No surgery is required. Sharron, and a whole host of experts, scientists and sports stars such as Martina Navratilova and Dame Kelly Holmes, plead the case against, based on the fact that a person who has gone through puberty as a man has a physical advantage over a woman. These physical traits include bigger lungs, larger chest cavity, more red blood cells and better hand/eye coordination. "You are standing next to someone on the block who has a massive physical advantage to you. No matter how much you train you cannot level the playing field," said Sharron. "I think it is really bad that we have got to a place where we can't have an opinion or we are called transphobic. It's all about sport and when it comes to sport and a level playing field I am going to fight."
Much of Sharron's career as an elite sportswoman was battling against East German swimmers such as Petra Schneider – who just beat Sharron to an Olympic Gold Medal in 1980, but later admitted that her performance was heavily drug enhanced. Channel 4 subsequently screened a documentary on this when they reunited the two athletes. "For 20 years they dominated all events and the IOC (International Olympic Committee) sat back and watched them do it. They have never had a great deal of backbone. They have bowed to the PC thing here," said Sharron whose concern is that countries like China and Russia will take advantage of the transgender rules to win.
"The ability to abuse the rules at the moment is also really bad. The only way is for trans women is to have their own games," she concludes.
"Trans games in the trans community supported by everyone and athletes would support it too. How do we make this fair for young female-born athletes? And how do we include transgender women in sport, and no one is talking about the trans gender men – they are at a disadvantage. How do they compete?"