It all adds up...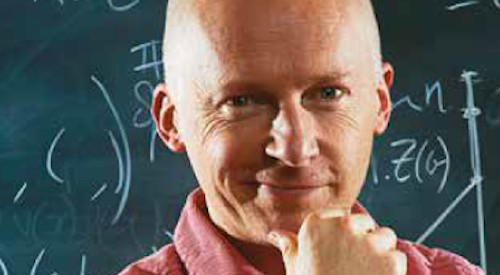 The ten days of Henley Literary Festival start at the end of this month and one of the returning authors is Henley's most famous mathematician, Marcus du Sautoy. Cindy Burrowes spoke to the professor, broadcaster, writer, playwright and performer about Henley and his latest book, The Creativity Code: How AI is Learning to Write, Paint and Think.
Marcus du Sautoy is the Charles Simonyi Professor for the Public Understanding of Science at Oxford University. He is also a Professor of Mathematics and Fellow of New College, has won prestigious prizes in his field and was awarded an OBE for services to science. So he is, arguably, one of Henley's most brilliant sons.
He credits his career in mathematics to his Gillotts maths teacher, Mr Bailson. The pair were reunited in 2010 for BBC Radio 4's Top of the Class, where they revisited the conversation in the Gillotts classroom where Mr Bailson gave Marcus a list of books he thought he might enjoy.
"Actually the seed for that mathematics obsession that I have was sown by my teacher at Gillotts. All the books I write are trying to pay him back for the inspiration he gave me," said Marcus whose parents left the town 25 years ago.
It is the Henley Literary Festival that has reintroduced the professor to his hometown more recently, and this year's will be his third appearance. He has always maintained a link with Henley and Oxford: "I did a lot of music in Henley, I played trumpet in the Henley Town band, music at Gillotts and the Oxford Youth Orchestra, so Oxford was always part of my world, and I think those trips showed me what an amazing place it was to go to university."
The multi-talented author collaborates regularly with different artists in a variety of mediums, and still plays in concerts with two amateur orchestras in London. He also works with the Oxford Philarmonic Orchestra in joint performances exploring musical scores in which numbers can enlighten the notes.
Another side to Marcus's artistic talent is his stage performances. This year he performed his play, Strange Loops, to sell-out audiences at the Barbican. He is also a mathematical adviser for theatre companies, including the National Theatre's The Curious Incident of the
Dog in the Nighttime.
Strange Loops looks at the impact of technology on what it means to be human. It is this link with mathematics and creativity that Marcus explores in his latest book.
"My book is trying to illustrate that mathematics is a very creative subject, not just music but narrative, visual arts, but in particular trying to explain that mathematics is not a cold, emotionless subject," said Marcus who explores our potential creative future using Artificial Intelligence (AI).
"In my book I try to explain that even human creativity is something that AI might be able to achieve and I will explain how AI isn't something scary."
In a world that is nervous about AI, but relies increasingly on algorithms, Marcus encourages his audience to participate in discovering whether a machine without an internal, emotional world can be as creative as a human.
"And I think at the heart of the whole journey is 'will it at some stage develop some sort of consciousness?'
"I don't see any reason why a computer could not have an internal emotional world, a long way down the line in the future," said Marcus.
"I think we are at a real turning point because a lot of people realise that we are at the beginning of a new industrial revolution.
"The AI we are seeing is going to dramatically change the structure of society and people just don't know how. Hopefully this will give them an insight into the direction we are headed."
Marcus du Sautoy will be discussing The Creativity Code: How AI is Learning to Write, Paint and Think on Thursday, October 3 at
6.30pm at Phyllis Court Club. For tickets go to www.henleyliteraryfestival.co.uk