Lamb Week celebrates flavours that hit you in the chops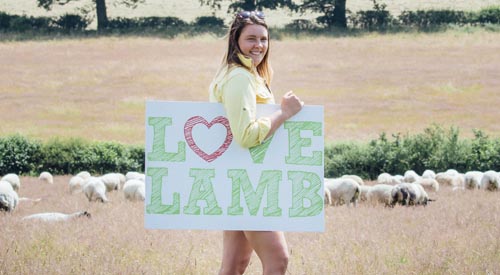 Lamb producers will celebrate its unique flavour when the fifth annual Love Lamb Week takes place from September 1 to 7.
The week is scheduled at a time when British lamb is in peak supply, to stem the decline in sales and put it on plates year round. It's an industry-wide initiative supported by organisations including the National Sheep Association (NSA), the Agriculture and Horticulture Development Board, the NFU and Red Tractor.
This year, 24-year-old sheep farmer, Charlie Beaty, is championing it. She said: "Lamb has a taste unlike any other meat and that's what makes it perfect for a variety of dishes, from curries through to a slow cooked roast.
"Our sheep graze on permanent pasture, which not only gives lamb its delicious flavour it also helps to absorb carbon from the atmosphere, protecting the environment.
"I'd encourage people to buy lamb to show their support for the week and beyond. Not only does it taste great, it's also a nutritious and naturally rich in protein, providing vitamins which are good for health and wellbeing."
But it's not just sheep farmers who celebrate lamb's delicious taste during the week, Gabriel Machin is a Henley based butcher. He said: "Lamb is such a versatile meat, with cuts from quick cook lamb leg steaks to a tender loin or mince, it can be included in a variety of dishes and cooked in as much time as you have available. My favourite way to cook the meat is to slow roast it with rosemary and garlic, then serve it with minted potatoes and a good dollop of mint sauce. You can't go wrong, any time of the year."
To find more delicious lamb recipes visit SimplyBeefandLamb.co.uk. When you have cooked a new dish, share photos using #LoveLamb on social media.