Meet top vet Liz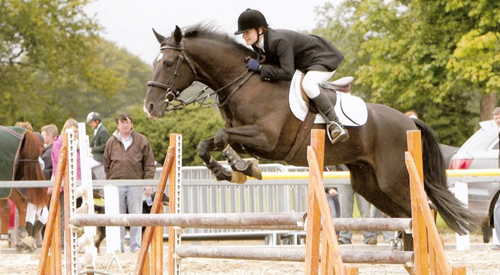 Elizabeth Lane is a full-time government vet based in Ireland. She holds a Doctorate in Veterinary Medicine from UCD and is Board Certified through the European College of Animal Reproduction. Previously she held faculty positions at UCD and at the Royal Veterinary College in London. She now lives in Durrow, Laois, a beautiful part of the Midlands in Ireland with her husband Canice Farrell where he farms Knockatrina House Stud. The working mum talked to Henley Life's Amanda Stewart about her high-level job and work-life balance on one of her frequent visits to Henley where she is based during the Ascot racehorse sales.
Did you always want to be a vet?
It seemed like a reasonable option to study at college. I grew up on a farm, we rode ponies from before we could walk. I was expected to go to college, so veterinary college it was.
You have a slightly different role, to the "standard" vet role. How does this work?
Part of the struggle for all vets in clinical practice is to balance family life and work rotas. With a husband who also works 24/7 farming and who foals mares for the season each year, it was necessary to consider a position which allowed one of us to spend some time with our children. I don't regret the choice to leave clinical work; while in some respects I do miss it, I don't miss the hours or the night-work. My current position offers a varied challenging role with very sensible hours, and as 'government' employees we are given excellent conditions of work, with every variety of flexibility and leave available to us to balance work and life. I am based at the Backweston Campus near Dublin which is a beautiful workplace. More importantly, we are offered much flexibility with hot-desks located closer to home and a varied meeting schedule in provincial towns reasonably close to home.
You have two children, so does having a high position make life difficult?
Yes we have two children, our eldest (girl) is now 10 years of age (going on 20), while our boy is seven years old; both are attending a primary school in the next village. Fortunately the children enjoy animals, farming, dogs and ponies. The balance between full-time work and children is always difficult, some things always lose out, whether that is the forgotten parent teacher meeting (oops) or the child wishing for play dates like others in their class, or the work trip you simply cannot make. Sometimes it is not possible to do everything. In general though, although my husband works full time, he is almost always available to pick children up or deliver them to the next activity.
What do you enjoy most about your job?
My job offers huge variation and lots of challenges. I work for Animal Health and Welfare as one of the senior vets in my division. Ours is essentially an advisory role, with a remit for animal health programmes and a number of disease eradication programmes.
There's been a case of rabies recently, should we in the UK be worried?
The Department of Agriculture identified evidence of exposure to a lyssavirus in a recently imported exotic pet. However, the case is undergoing further investigation, so it's not appropriate to comment more specifically. On a general note, the risk posed to the people or animals is calculable and clear protocols are set out to manage and investigate the suspect. More importantly, to my mind, is the greater risk with the move towards people wishing to purchase and import the more unusual pet.
Have you had any difficult moments at work?
To be honest, veterinary is not a difficult job, but it can be frustrating. Biology is not an exact science and it seems animals don't always read the study guides. Difficulties arise more from a physical perspective while trying to manage very fractious animals.
You come from an equestrian background, have you owned any horses of note?
My background was riding and competing at show jumping and showing in national level classes, so no nothing of note per se, but lots of fun horses over the years. My husband, on the other hand, has been fortunate to put a number of top class racehorses through his hands including Fayr Jag and Paco Boy. One to look out for next year – Deidra.
Do you visit the UK much and if so how often are you in Henley?
Yes, we are very frequent visitors to the UK. I have two zoo-obsessed children so we have spent more time in zoos than the average family. We rotate our membership of different zoological societies, currently we are members of Fota Wildlife in Ireland and RZSS in Scotland, previously we were members of ZSL. The Natural History Museum in London is another of my children's favourite days out. Henley is a beautiful area to visit. We used it as a base when we visit England and love coming here.
Would you encourage your children to be vets?
Yes, I would be delighted if they followed me to vet school. Veterinary is a fabulous degree that offers huge variation in future employment. I have friends working in every facet of veterinary. The general public often only consider the role of a vet in practice, but there is a huge variety of roles out there for vets. While there are of course downsides to every career choice, veterinary is certainly the one I would choose if I had to make the same choice again.
What will you be doing for Mother's Day?
Oh dear - I had to look up what date Mother's Day actually is. Given it's a Sunday in March, my guess is I will be bringing my children to early morning hockey training (not theirs or my favourite activity). However with luck we might follow it up with a mid-morning ride through the beautiful woods in our locality.