My Henley Life: Annie-T Simons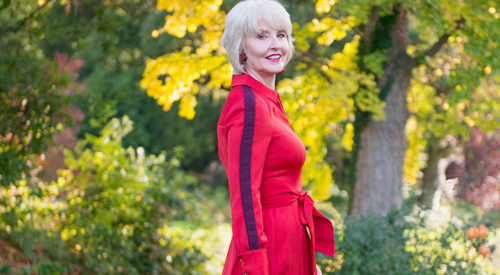 Annie-T is one half of the enterprising duo behind the CountryWives online magazine, which started life as a tongue-in-cheek blog and has grown into a popular, successful platform for women aged over 50. She lives over the river at Mill End with her husband Ed, and their lively dog Kobi. They have four adult children who frequently visit home.
What brought you to Henley, why do you stay?
We moved out of London for the children's school, we wanted them to go to country schools. I live in a pretty idyllic spot, that view is something I could never get bored of. We are surrounded by beautiful countryside with easy access to airports, and everywhere else and there is so much going on in the town.
What would you change about Henley?
The traffic system -- particularly the one way system. Personally I would make Hart Street one way, to allow the bridge to flow. I would do parking on either side for 30 minutes, so you can pop in and support the local shops.
How do you spend your leisure time locally?
Dog walking up to Maidensgrove and the Hambleden Valley, the gym (Fitness Space) in Station Road and meeting my friends. And I like going to the River and Rowing Museum. I think it is wonderful that we have that ability to see someone, so you are now never lonely. And we are very lucky having the cinema.
Where are your top three local haunts?
To eat, the Bottle and Glass Inn (Binfield Heath) as I can incorporate a dog walk, and also at the Five Horseshoes in Maidensgrove. And if I want really fabulous food, The Coach in Marlow. We are really lucky with that knockon effect from London.
Which song would you pass down to your children?
We are a singing family and always going to musicals so it would have to be One Day More from Les Misérables.
Which book, film or play inspires you the most?
It is a book that my younger son is making me read, surprisingly, Sapiens, A Brief History of Humankind(Yuval Noah Hurari). I think everyone should read it. I think we owe it to them to read it.
What do you treasure most about life in the UK?
Our freedom of speech, the tolerance -- we are a country comprising many immigrants. But having listened to my son when he was working in Calais (at the Sangatte Refugee Camp), I think we need to do much more.
But if you could live anywhere else in the world, where would it be?
Probably on one of the Greek Islands, Corfu – we enjoy it, it is beautiful, easy to get to, there's enough to keep us occupied and a lovely lifestyle. We have thought of all sorts of places. Up until now not too much matched up to the UK. But I am always keen to get away from the grey damp winters although we haven't managed to so far.
Is there anyone or anything in the area that you admire, would recommend or deserves a special mention?
I think what my husband, and Alan Pontin before him, achieved at the Kenton Theatre was incredible. I don't think they really got the appreciation for what they did because that was a building that was going to be lost, we would never have had a theatre. And he turned that into one with a seriously healthy bank balance. We are very lucky to have it – it is a lovely facility.
If you could turn back time, what would you do differently?
Everybody always wants to turn back time in one way or another. But I suppose our house burnt down when I was seven years old and we lost everything. And I was blown up in the Harrods IRA bomb – at 25. I was 15 feet from the bomb and the only one that survived so close. That was a horrible time.
Which things do you wish you had known when you were younger?
How wonderful children can be. I never had a great desire to have children and now I think – gosh they are such fun. Also, the person I ended up marrying is not anything like the people I went out with and I wish I had known what you had to look for in a person. I look at some ex-boyfriends now...!