My Henley Life: Arzu Kara Tevfik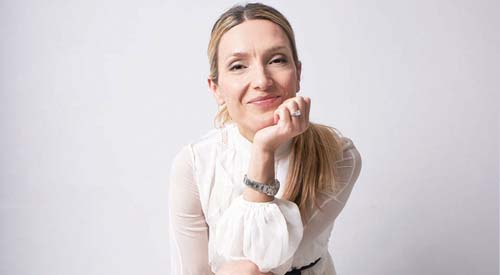 ARZU KARA TEVFIK is the brain and creative power behind her eponymous fashion brand, Arzu Kara.
She was 20 when she moved to England from Istanbul to complete a fashion degree and has been living in Henley ever since. Upon graduating, she worked in London and later set up her own business. She dresses the stylish/elegant women of Henley, London and New York from her studio in Newtown Road. She is married to Hora and they have two children, Olivia, five, and Sofia, three, with their third child due in March.
What brought you to Henley?
My studies. Before I knew it, I had set up my own business and made the greatest friends. Now I have my husband and daughters here so Henley is stuck with us!
What would you change about the town?
Not much but we do have an excessive number of charity shops. We need a super-cool rooftop bar with a city atmosphere, where we can dress up and have cocktails.
How do you spend your leisure?
Leisure time is a luxury with two small children but we love walking into town for brunches, baby chinos and perusing the shops. I used to adore going to KuBu Spa for facials and massages.
What are your top three haunts?
I adore the Henley Festival, even though it's once a year, and feel very lucky that we have that on the doorstel. I quite like the Relais - their lamb was so good, I ordered two portions. Bosley Patch has the most gorgeous flowers and local produce.
Which song would you pass down to your children?
For Me Formidable by Charles Aznavour. It has a special meaning for my husband and I.
Which book, film or play inspires you?
I have read far too many books so can't choose only one. The film Julie and Julia (2009) always makes me smile and inspires me in so different ways.
What did you want to be as a child?
I loved fashion but I also loved debating so wanted to be a lawyer but my late father discouraged me.
What do you wish you'd known when you were younger?
That you can't rely on other people and wait for things to happen, you have to take charge.
What do you treasure most about life in the UK?
More freedom than some of our neighbours, diversity and how cosmopolitan it is.
If you could live anywhere else, where would it be?
Obviously I chose England 20 years ago but I also love the energy/culture of Melbourne and Paris. the Maldives mesmerize me, although I wouldn't be fulfilled if I lived there full-time.
Where do you like to go on holiday?
We always go to Istanbul or the coast of Turkey once a year
Who do you admire?
Anne Boden, the founder/chief executive of Starling Bank, who used to be a great client of mine and lived locally. She flies the flag for professional working women. I also worked closely with Olivia Harrison and I love how gracious and elegant she is. I am still in awe of Emily Burkitt, a local mother who battled cancer but still had the courage to raise money for charity. She passed away in July 2019 shortly after raising thousands of pounds.
What are your ambitions?
To be an amazing parent and take my fashion line on to a global scale.