My Henley Life: Clive Hemsley Artist and sculptor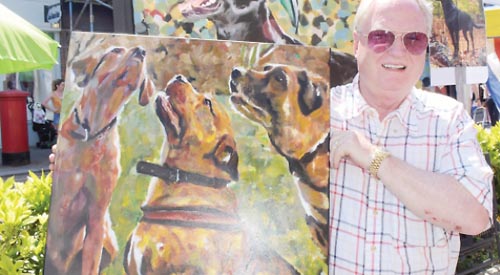 Clive Hemsley, 68, lives with his wife Inez in Longlands House, Hart Street – which he converted back to a home having run his extremely successful advertising agency, Billings, from there. Clive left school unable to read or write but pursued his passion of painting and art, which he hopes to pass on to future pupils at his soon to be completed Art Studio. Clive was the artist who festooned Henley Bridge with LED lights.
What brought you to Henley, why do you stay?
It didn't take much persuasion to move here. We were living in Camberley at the time and the children were young enough to move, so we did, to Rotherfield Greys, where we spent 34 years before moving into Henley.
What would you change about Henley?
I would like to see a lot more artwork, sculpture and a lot more proper trees in the town. Everybody should go to Barcelona --it's totally inspirational and I would like our townsfolk to open their eyes on how to make a town come alive. Sculpture, architecture and artwork --they change people's lives for the better. Colour stimulates the brain and that makes us happier.
How do you spend your leisure time locally?
I spend my leisure time either on my boat or painting. The last year I have spent every spare hour on my digger to help build my new art studio in Rotherfield Greys --it's a green oak barn and will be totally eco.
What are your top three local haunts?
Phyllis Court Club, Café Rouge and Villa Marina – which in my opinion is still consistently the best restaurant in Henley. I'm not really a pub person but Mark at the Angel on the Bridge has a great venue and great food.
Which song would you pass down to your children?
My favourite group has to be Queen. The 60s and 70s music was inspirational and Britain, without doubt, had and still has the best musicians.
Which book, film or play inspires you the most?
The list is very short because I have to read each page two or three times. I attempted Lord of the Rings once a few years ago and enjoyed it immensely. Now I stick to design books and art books on the great masters, and my all time hero Leonardo Da Vinci.
What do you treasure most about life in the UK?
What we lack in everything else we should be proud to still have the greatest creative minds. Globally we are the ninth biggest manufacturing country in the world. We lead in so many other areas. Just look at our heritage. We are winners. We are the best nation in the world, let's be proud of that and remember that.
But if you could live anywhere else in the world, where would it be?
When you look around the world and see all the problems and conflicts should we not pinch ourselves and say 'thank you' to God, for giving us such a great country, and not escaping overseas? That is not the answer.
Is there anyone or anything in the area that you admire, would recommend or deserves a special mention?
One of the most talented men I have ever met locally was Brad Visser, a real sculptor/cabinet maker in Stoke Row. Brad had the personality along with his talent, but very sadly we lost him in July at the age of 38. He called me Papa Clive and he did the signage for my new art studio in Rotherfield Greys.
If you could turn back time, what would you do differently?
I would definitely not want anyone to only have 'half a brain'. It destroys confidence and gives you an enormous inferiority complex so to be able to read and write is essential. Having no education is seriously a disadvantage and a real struggle --I know these days it's called dyslexia, but in my days you were just labelled thick!
Which things do you wish you had known when you were younger?
Let's all look after our animals, wild and domestic. I just put a duck pond in the field as Country File has appealed for people with spare pieces of land to put in small duck/wild life ponds.