My Henley Life: Glyn Millington, Minister of Christ Church, Henley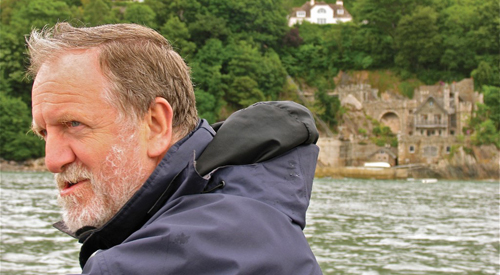 GLYN MILLINGTON has been minister of Christ Church United Reformed Church in Reading Road, Henley, since 2011, having moved from Devon. He says he has been staggered by the generosity of Henley people in their giving towards victims of the war in Ukraine. In Lent, he's busy preparing for Easter, "the greatest feast of the Christian year when we remember Jesus' resurrection and the promise of a life which death cannot defeat and a light which not even the darkness of war can extinguish".
1 What brought you to Henley and what keeps you here?
The Church Meeting at the Christ Church Centre concluded that God was calling me to be their minister. That's how we do it. I stay because they haven't yet concluded God might have other plans.
2 What would you change about Henley?
The traffic in Reading Road. I'm not sure how it could be improved but it would be a real blessing to reduce the volume.
3 How do you spend your leisure time locally?
Mostly prowling around the Chilterns. We are so lucky to live in such a beautiful part of the country.
4 What are your top three local haunts?
Christ Church (wonderful people), a walk round Stonor Park and the Hambleden Valley.
5 Do you have a favourite song?
Love Divine, All Loves Excelling to a proper Welsh tune (Blaenwern ideally). One of Charlie Wesley's finest.
6 Which film or play has inspired or moved you the most?
The Shawshank Redemption, King Lear and the Oresteian trilogy.
7 What do you treasure most about life in Britain?
The countryside, our small towns and villages and British politeness, which is not yet dead despite Twitter.
8 If you could live anywhere else in the world, where would it be?
The isle of Iona off the west coast of Scotland. On the occasional sunny days the beach off the machair is the most beautiful place I know.
9 Is there anyone, or anything in this area that you particularly admire, would recommend or think deserves a special mention?
Henley Town Council. It does a fantastic job of caring for, promoting and protecting the town and that should be recognised. And the Hart and Bell surgeries, which did so much to help so many during the coronavirus pandemic.
10 What did you want to be when you were a child?
A gamekeeper.
11 Which things do you wish you had known when you were younger?
German. I've studied various languages but German is the most useful for theological studies (after the Biblical languages obviously). Also that old people may look old but inside there is a hidden teenager. That would have saved me some misunderstandings.
12 Which three people would you choose to have dinner with if you could?
Vladimir Putin, Joe Biden and Xi Jinping. The threat of my cooking hanging over them might do a lot to promote world peace and co-operation.
Alternatively, Lt Col Frederick Bailey, who discovered the Himalayan blue poppy which is named after him (Meconopsis Baileyi) and led a fascinating life, plus Mozart and Thomas Aquinas.
13 Where do you like to travel to on holiday?
Anywhere near hills or the sea. I'm very fond of Devon and Cornwall.
14 What are your future ambitions/plans?
To carry on telling people about Jesus until I drop or am shot. As we head towards Easter and celebrate the fact that Jesus, crucified, dead and buried, is alive. That's either the most double-dyed nonsense or the best news ever in its implications for us, our families and our future. I think it is good news.
15 Have you any regrets?
I've had a few but then again too few to mention. Things mostly went wrong when I did it my way rather than God's way.