My Henley Life: Lorraine Hillier, Councillor and Founder of Hot Gossip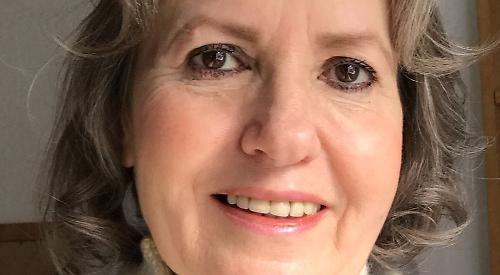 LORRAINE HILLIER was born in Derbyshire and moved to Sheffield with her family when she was three. She was working as a graphic designer when she moved to Henley more than 30 years ago. In 2007, she changed career when she opened the Hot Gossip coffee house in Friday Street. In 2020 she moved the business to Reading Road. She is a Conservative member of Henley Town Council, having been first elected in 1999, and was mayor of Henley in 2015/16. Lorraine is also a member of South Oxfordshire District Council.
1 What brought you to the Henley area?
My work brought me down here from Sheffield 32 years ago. I was a graphic designer and I was offered a job near Henley. I chose to live in
Henley as a friend thought I would like it and I did. I stay because I have a coffee shop here, which I opened 15 years ago. I have been on the town council for 22 years so being involved in the community it is very much my home.
2 What would you change about Henley?
I would like to see more retail in the town. We have plenty of hospitality now but it works hand in hand with retail so I feel we really need a boost to the shopping experience for locals and visitors.
3 How do you spend your leisure time locally?
I don't get as much leisure time as I would like but when I can I like to go to the cinema. During lockdown I got used to going on long walks just out of the town and along the river.
4 What are your top three local haunts?
The Henley charity shops (if I can use a collective as one), Café Buendia and the Rainbow at Middle Assendon.
5 Do you have a favourite song?
I have several but will say Famous Blue Raincoat as Leonard Cohen is all-time favourite of mine. My sister was given his LP Songs of Love And Hate, which she gave me and I was a fan of his from that moment.
6 Which films have inspired or moved you the most?
The Deerhunter (1978) and Belfast (2001). Both weaved around troubled times and the impact this had on ordinary lives – Vietnam in the former and Northern Ireland in the latter.
7 What do you treasure most about life in Britain?
The freedom we have and that we are a very compassionate country. There is much I probably take for granted but then see how hard lives are for people in other countries and realise how fortunate I am.
8 If you could live anywhere else in the world, where would it be?
Definitely New York. It's a very vibrant, cosmopolitan city.
9 Is there anyone or anything in this area that you particularly admire, would recommend or you think deserves a special mention?
If it is okay to say a family member, I would say my sister Susan George. She has been a teacher for almost 50 years and is such an inspiration. She's a very good, kind and dedicated teacher, who is always bringing out the best in her pupils. She is semi-retired now and doing online tuition. She still loves teaching.
10 What did you want to be when you were a child?
I always wanted to be an artist. I loved art and writing.
11 Which things do you wish you had known when you were younger?
How quickly time passes. Don't put off doing things, it's better to act in the moment.
12 Which three people would you choose to have dinner with if you could?
Leonard Cohen, Bob Dylan and Alice Cooper.
13 Where do you like to travel to on holiday?
It has been a long time since I had a holiday but I liked America, Spain and Scotland. I wish I had travelled more.
14 What are your ambitions/ future plans?
I don't make plans but probably should. I would like my coffee shop to still be a part of Henley and just to enjoy each day.
15 Have you any regrets?
I probably regret some things I have said or done, didn't say or didn't do, but not how my life has played out in general.