My Henley Life: Maggie McMillan, The Style Counsel and Smartworks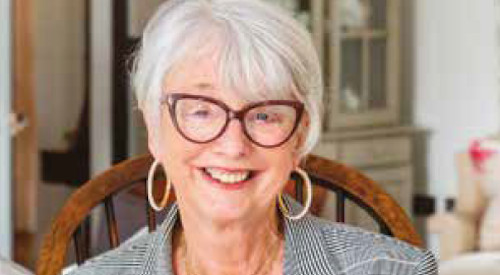 Maggie Mcmillan runs her company, The Style Counsel, from her home on Remenham Hill where she lives with her Dachshund, Roly. Her daughters Georgia, 31, and Lydia, 28, grew up in Henley and now live in London. Her portfolio of careers includes speech therapist, director of a national charity and now a style and fashion advisor.
The Style Counsel is a personal branding, impact and wardrobe consultancy working with men and women both within and outside the corporate sector. Maggie also leads the team of women who style and dress clients for the charity Smartworks.
What brought you to Henley, and why do you stay?
We came to Henley when my youngest daughter was four as we were escaping London. That was 24 years ago. I have the most fabulous friendship group here and, after a stint away, this was the longest place I ever lived so for me it was like coming home, and also, who wouldn't want to live in Henley?
What would you change about Henley?
I know exactly what I would change -- the traffic. It is especially unpredictable right outside my door on Remenham Hill.
How do you spend your leisure time locally?
With my two daughters, who both live in London, walking my dog by the river and catching up with friends, with the occasional bit of shopping, and glass of rosé thrown in.

Where are your top three local haunts?
I have to say first and foremost Villa Marina, we have had every occasion you can imagine in there over the years from celebrations to wakes. Obviously, as I work in fashion I am particularly interested in the clothes shops in Henley and have been a supporter of Fluidity
since it opened. But I am really enjoying seeing the new independents like VH&Co, Stocks and Busby & Fox.
Which song would you pass down?
Without doubt it would be Gloria Gaynor's I will survive. Because our lives have been, to say the least, quite bumpy as a family and I look at my two daughters, who despite the bumpy road still pop back up smiling. It is such a positive message and that is how I want them to think.

Which book, film, or play inspires you the most?
I wouldn't say I am inspired by it, but a film I would never tire of watching would be The Railway Children. And I have just read Michelle Obama's Becoming and I wasn't disappointed. I do admire her. She is an inspiration.

If you could live anywhere in the world, where would it be?
It's a tricky one. It really depends on the seasons. In the summer I would always want to be somewhere hot by the sea, but in the winter, London or Paris because I am a real Francophile.

Is there anyone or anything in the area that you admire or deserves a special mention?
It would have to be the charity Smartworks because it really embodies the ethos of women empowering women. It helps vulnerable women get back into work by providing full outfits for interviews, interview training and a top-up capsule wardrobe to take them through to their first pay day. It has an astonishingly high success rate; more than 65 per cent of the women who come to us find employment. I am grateful to the women of Henley and the surrounding area who generously support our fundraising events.

If you could turn back time, what would you do differently?
I would probably have started my company much earlier and have been less afraid to grow it much bigger. But generally speaking I have learned we can't change the past.

Which things do you wish you had known when you were younger?
My advice to my younger self, and to my daughters, is 'enjoy the moment.' I have been widowed twice and so I would say to them, savour the moment, do not worry about what is gone and try not to worry too much about the future. Believe in yourself and make sure you marry someone who makes you laugh.