My Henley Life: Suzy Hobbs, Mr Hobbs Gin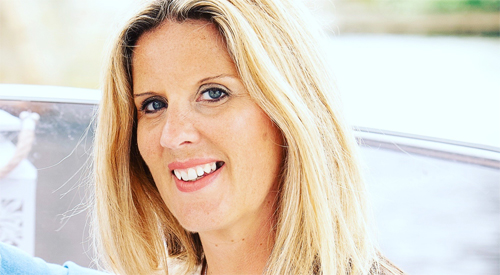 Suzy runs Henley's very own gin company, Mr Hobbs Gin, which she set up with her husband Jonnie while running the marketing, advertising and PR for their boat rental company, Hobbs of Henley. Having decided to diversify with their own gin two years ago, Suzy has overseen its production and expansion from the initial tastings to it being stocked in 12 local Waitrose supermarkets. It is also now in Laithwaites Gin Club and on the gin menu at all the Botanist restaurants nationwide. Suzy lives with Jonnie and their three daughters in Stoke Row, near Henley.
What brought you to Henley, why do you stay?
I came here in 1994 to Henley College, but I was born in Marlow, I went to school at Pipers Corner. Then I got a job at the Angel (on the Bridge) and I met Jonnie there, when I was about 17½ and I guess the rest, as you say, is history.
What would you change about Henley?
I love Henley - I wouldn't change a huge amount. I think everytime you go anywhere in the world and come back here you see how beautiful it is. However we have lost four tyres to potholes recently! Also, the Imperial Hotel is still just sitting there and that is a real bone of contention because it is the first thing you see when you get to Henley off a train. I think Henley needs more hotels.
How do you spend your leisure time locally?
When we get any we love walking our dogs up in the countryside near where we live. We also go to the gym – at Love Fitness by the Rugby Club – it is a beautiful, boutique gym. I love going to our local pub the Cherry Tree, that has a great selection of gins. Also, in the Winter we love to support Henley Hawks, to have a national league team in a small town is pretty special.
Where are your top three local haunts?
The Anchor, The Angel and The Little Angel.
Which song would you pass down to your children?
I have always loved the song Here Comes the Sun. It has a Henley connection because it was one of the few George Harrison wrote. But also the line 'Little Darling I feel the ice is slowly melting' I have always believed it means that progress is slow, but it is still progress. And I love the sun.
Which book, film or play inspires you the most?
Braveheart (1995) -- and the reason is my mum is Scottish, from the town of Moffat. She is currently the Clan Chief of the Moffat clan. We have our own tartan and my mum goes around the world on clan gatherings giving talks. They particularly like it in South America and America.
What do you treasure most about life in the UK?
I really do treasure the traditions we have in this country, the history we have, I love our countryside and the seasons. I love the cold winters, the spring with the flowers.
But if you could live anywhere else in the world, where would it be?
The Tuscan region of Italy. I love the climate, food, wine, the cost of living at the moment, the history and it is also near the UK, so not too far away.
Is there anyone or anything in the area that you admire, would recommend or deserves a special mention?
I do admire the people that give back to the town and give their time up for free to make this town a better place. For example, there seems to be a weekend group of litter pickers, round Fairmile and up towards Nettlebed. I love seeing other people caring about Henley as much as we do.
If you could turn back time, what would you do differently?
I would enjoy the early difficult years with our daughters more. I cannot believe they are off doing their own thing. I wish I had appreciated the baby bit a little more.
Which things do you wish you had known when you were younger?
I wish that we all knew what we know now about the damage we are causing to the environment. I feel it is a little bit too little, too late. Also life really is short so enjoy the younger years, with no responsibilities.