Pam is a powerful embodiment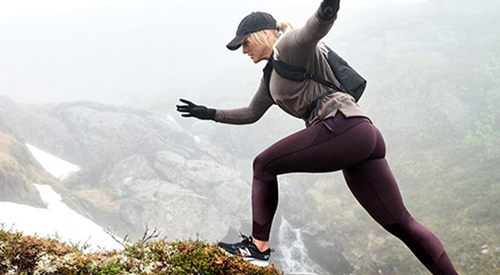 As an inspiration for January, and to complement our outdoor fashion feature opposite, our covergirl this month is 32-year-old 2012 British Ski X Champion, Pam Thorburn.
The courageous Scot is one of the women chosen by exercise, fitness and ski clothing company Sweaty Betty as a representative of its Empowering Women campaign, and one of its skiwear models.
Pam grew up in Strathaven, just outside Glasgow and she has been skiing since the age of three. Three times she has come within a hair's breadth of skiing for GB in a Winter Olympics. Although she qualified as an alpine skier (slalom and downhill racing) for the 2010 Games in Vancouver, her sponsors went bankrupt and she could not compete. So, Pam switched to Ski Cross which is essentially downhill ski racing, but freestyle, over jumps and with all the competitors going at once. Subsequently she has had a lot of injuries.
"I actually have no idea how many bones I have broken – I've totally lost count. I've broken all of the major joints – so shoulders, hips, knees and neck," said Pam, who recently got back on her skis for the first time since shoulder surgery. Pam describes herself as fierce and determined, so she continues to chase her dreams.
"I constantly remind myself what I'm doing it all for, my passion and my goals. I find it very difficult to make myself a priority in daily life so I try to take one day a week to just focus on me and do something that keeps my body and mind happy."
Brit Tamara Hill-Norton founded Sweaty Betty in 1998, determined to make it cool to sweat through exercise. Last year Tara launched a manifesto for her company to encourage women to encourage other women to be strong, confident, and to find strength in sisterhood. Pam is the embodiment of this campaign and female empowerment means a great deal to her.
"To me it means strong, capable women standing together and fighting for what they want and not letting anything stand in their way."
Photos and interview courtesy of Sweaty Betty.