Personalised gifts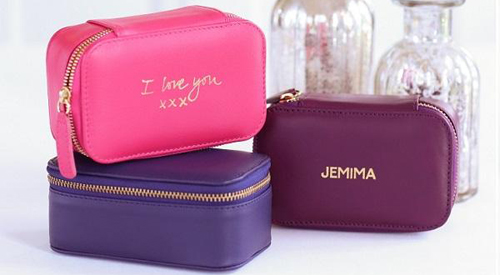 It may be a few weeks until Christmas, but for those wanting to give personalised presents, a little planning is required. It is one thing choosing a lovely, thoughtful present for someone, and quite another to have it personalised directly for them, with a saying, initials or their name. But often a few weeks is required for personalisation, so get ahead of the game and have a look at a few of our suggestions.
Personalised chess or backgammon sets
Farrar & Tanner sell great men's gifts made out of beautiful materials. Starting at £40 they have a variety of beautiful backgammon and chess sets in a variety of woods, that can have a brass plaque engraved and fitted to the box. www.farrar-tanner.co.uk
Personalised leather diary, box or photo frame.
Noble MacMillan is a secret present weapon for many in that it produces beautiful leather goods, to personalise, with the quality of the iconic British company Smythson, but at a fraction of the price. They even do letter candles now as well as key rings, diaries, leather photo frames and beauty boxes, in a wide spectrum of colours. And all to be personalised in gold or silver. www.noblemacmillan.com
A towel for every occasion
This may seem a little odd, but this is a great unisex gift that will be really appreciated. Dock & Bay make quick-dry, sand-resistant, large towels in a variety of stripes and patterns that can all be personalised. They pack up small and are perfect for travel, festivals or the gym. From £12 www.dockandbay.com
Put them on the map
Bombus make stunning pictures from old, unused maps, using the location of your choice in a variety of shapes, sizes and frames. A truly unique present. From £49. www.bombus.co.uk
An Initial Cup
These beautiful cups are crafted in bone china with 22 ct gold banding and a hand painted initial. A treat from which to drink your favourite hot drink. £29 by Emma Alington through the Creative Duck, www.thecreativeduck.co.uk