Plant it up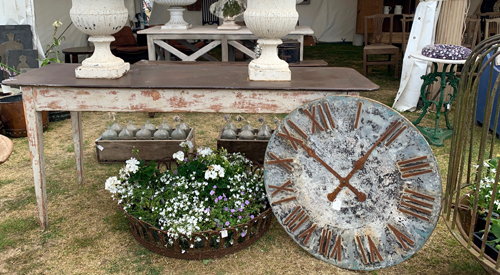 The annual Fawley Decorative Fair, held at the end of May, was the perfect opportunity to witness alternative garden planters.
With 160 exhibitors at the Fawley Estate there were plenty of opportunities to discuss uses for some of the extraordinary artifacts on display. Many of the traders are experts in their field so usefully guided the punter as to whether the stone bath they have on their stand is more ornamental or could be planted up. On the whole there were some very inventive pieces that could double up as garden planters including the old gondolas from fairground rides and a magnificent pair of cattle feeders. These latter were huge, iron grids which planted up properly would look magnificent with trailing ivy, or nasturtiums growing out from between the bars. Low care plants are key for tricky or high planters such as the ones pictured which towered above the Fawley site and attracted a great deal of attention. On the whole this year's fair had a lot of pieces for the garden, but not all were stone urns on plinths.
There was a fair smattering of garden statutory from a 5ft high rendition of Pandora, complete with her box, to enormous, mushroom-shaped tarry stones. In terms of metal work there were some beautiful gates, archways, and a wrought iron swing seat, that would not only be stunning, even in a small back garden, but also practical and unique.
Anyone wanting to provide an additional focus point for a border or to add interest to a plain spot in their garden should spend time at the likes of the Fawley Decorative Fair, if only to get ideas, and to discuss possibilities with the traders. Once your inspiration has been ignited then it is a question of finding the right piece, and many of these fairs have transport companies to help deliver the recently purchased statue, wrought iron piece or planter to its new home.