Prue's recipe for success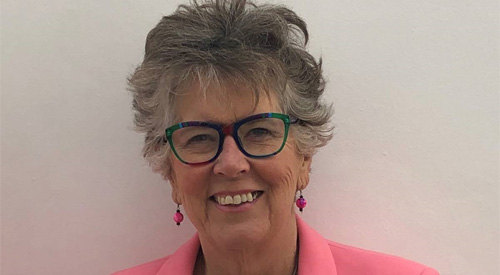 Prue Leith is a multi-faceted celebrity who is currently beamed into our homes on a weekly basis as one of the judges of The Great British Bake Off. The 79-year-old doyenne of the funky spectacles and statement necklaces is also a restaurateur, chef, caterer, businesswoman, journalist, cookery writer and novelist. She is currently touring the UK with her first cookery book in 25 years. Cindy Burrowes caught up ahead of her appearance at the Henley Literary Festival.
Prue Leith CBE was born and grew up in Cape Town, South Africa, but went to study at the Sorbonne in Paris where she discovered her love of food. This took her to the Cordon Bleu Cookery School in London, the city that has remained her primary home. In cookery terms she is best known for her Michelin-starred London restaurant, Leith's, which she started in 1975, and Leith's School of Food and Wine. She sold her multi-million pound catering businesses in 1995 because she wanted to write novels. "I realised that if I went on writing cookbooks I would never write the novels," said Prue, "I always say that I think writing is a disease, people talk about it being a gift, but actually if you write you feel a bit anxious and unhappy if you are not writing."
To that end, Prue has written eight novels, the last being The Lost Son, the final book in a trilogy. Cooks, chefs and restaurateurs feature in each of her novels. "I find it very difficult to not write about food, and sometimes I have to be very careful because I find myself describing something and what I am doing is giving a cookery lesson," she said, explaining why she has written her first cookery book in a quarter of a century. As she began to work in TV, including as a judge on The Great British Menu for 11 years, Prue was exposed to new cuisines and a new approach to cooking, with it being far more of a hobby for people, rather than a basic necessity.
"It was much more exciting and people were having sharing platters and all sorts of new ingredients were coming in, mostly from the Far East, and I thought that none of that had I written about," said Prue, who used her classic cookery bibles to teach people the precise way to make traditional dishes, step by step.
Although she describes her previous books as 'quite prescriptive and very useful', she has clearly loved embracing the new, more informal attitude to cooking and been inspired by the likes of Jamie Oliver and Yottam Ottolenghi.
"My main message about cooking today is that there is nothing wrong with it being fast, you just need to have very good ingredients and to not have too many flavours," she said. "So most of my recipes are really simple, they don't take very long to cook. They are pretty healthy, much healthier than the ones I did 20 years ago, although I haven't changed the ones that need the cream and the butter."
The format is also different, as the cookbooks of old were dense, 'how to' manuals, with the occasional diagram or picture. "I don't need to go into great explanations now because the people who are buying my cook books also like books, or maybe it is a present, so it has to be beautiful and the photographs have to be wonderful and now nobody cooks anything without a picture," said Prue.
"The two things I feel that I hope my book will bring? a) that you can trust it, and b) that it will trigger other thoughts. If you are having friends round it is quite fun to have several dishes and they can choose what they like." And it is this forward thinking positivity that Prue brings to the ever-popular Bake Off. "I think it is because we live too busy lives, Bake Off is like stopping for a cup of tea. I think we are all so busy and we don't see enough of our children, and life is quite stressful so it provides an antidote to that.
"Granny watches it, children watch it." And she confirms that the programme is really as it looks, with no scripts or rehearsals, and a supportive and convivial atmosphere. "They are nice people, there is no reason not to be nice to each other, there is no attempt in Bake Off to humiliate anyone. We are all really good friends, we have become extremely close the four of us, it's lovely." Prue adds that the whole crew's mission is to let the contestants bake to their best ability so that even the camera operators work around the bakers. Prue recognises that Bake Off is another way to excite children in cooking. "It's nearly always something sweet - I don't mind - I just want them to get interested in cooking, and then they will get better at it, they will start to enjoy and take an interest in it, they will start to care about what is going into their tummies," she said, explaining that she has spent a lot of time worrying about children's food, particularly as the chair of the School Food Trust. And she has very little truck with neurotic eaters, who pass on their often unfounded food concerns to their children.
"I mean food should be a pleasure, it has got to be good for you, you have got to be relaxed about it. And you can eat absolutely anything as long as you don't eat too much of it. "We have got people thoroughly frightened of food."
Prue's focus is now as an advisor on improving hospital food in the UK. This is a government-led initiative after the radical dismantling of 45 per cent of our hospital's kitchens in the UK. Many hospitals provide contractor-produced, re-constituted, dried food in a 'regeneration unit' rather than a kitchen, which then sits in a warming trolley for hours. The food is provided by a contractor and contains very little nutritional value. Therefore Prue's job is to see how this detrimental trend can be reversed.
"The fact is there are still a lot of caterers doing really good work in hospitals, for example the North Bristol Hospital Trust has fresh food, it's cooked on site and the customers are very satisfied. It can be done, but for hospitals that have already sold their souls to the devil and have lost their kitchens, it is really expensive to reverse that." But she fiercely believes this needs to be done, and that the current Government has endorsed it, with a big picture strategy for food in Britain.
"I have been saying for 40 years that we have an obesity problem, but it is connected to how much you eat and what you eat. It seems to have finally sunk in just because the evidence is now so clear that so much disease is related to food. "It all starts with diet and it shouldn't be surprising because it is what your body lives on, so, if it is not good stuff it is not going to do well."