Queen of upcycling turns to gardening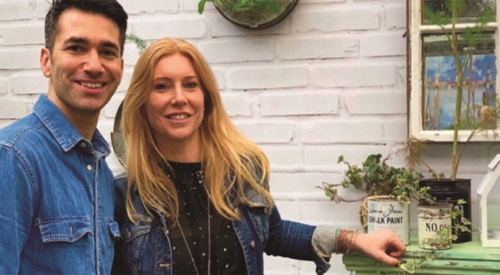 Lynne Lambourne is a familiar face around Henley and on our TV screens. She is the upcycler supreme encouraging all of us to think about the planet. Recently she turned her professional hand to gardening as she was invited to put together a sustainable show garden at Olympia's Ideal Home Show. Cindy Burrowes went along to see it.
The Ideal Home Show is the annual homes, gardens and interiors exhibition held in the vast halls of Olympia in London. It was devised by the Daily Mail newspaper in 1908 and continues to be a Mecca for anyone wanting to explore aspects of home development. This year there were four show gardens at the entrance to the show with Lynne's Grow Your Own Garden next to the Family Fun Garden, the Contemporary Garden and the Upcycled Garden. Lynne was keen to showcase sustainability but also to promote local partners from Henley. So she chose Henley's Mr Hobbs Gin as her inspiration to design and produce a garden that includes ingredients for Mr Hobbs new gin fizz. "The brief was to incorporate a bar in the garden to make it fun so it is not just to grow your own carrots," said Lynne. Everything in the garden is sustainable as it is recycled or upcycled.
Lynne used old milk churns and tyres as planters, the matting is made of recycled plastic straws, the decking is made from recycled plastic bottles and the stylish chairs are made from plastic milk cartons in the US. She flattened old spoons and painted them with blackboard paint as plant markers and used old film canisters as hanging planters.
Lynne chose not to support a big garden centre chain, but use the local Ways and Means Trust*. And the green paint she used is Annie Sloane's 'LemLem' with some proceeds donated to Oxfam. "The focal point is the fireplace – which I got for £5 on Gumtree, I bleached it, to distress it and then painted it," said Lynne.
"The mirror doubles the space so you get double the flowers and it reflects the light back." Lynne used a brick wall to demonstrate how even a small courtyard garden can be usable and productive.
"It is all very doable, anybody can do this it is just about spending some time and thinking about your garden," said Lynne. "I wanted it to be green and black because black is a really big colour coming through in gardens at the moment, it's almost like those American outhouses, that industrial vibe - and then you just need to soften it, like I have done with plants. "
* The Ways and Means Trust is a charity helping adults with learning or physical disabilities, or poor mental health. It provides social and practical skills for independent living to assist adults working towards open employment. Their nursery is open to the public for plant and produce sales at Greenshoots, Manor Farm, Henley RG9 5LA from Monday to Friday from 8.30 am to 4.30 pm. www.waysandmeans.org.uk