Reef safe, skin safe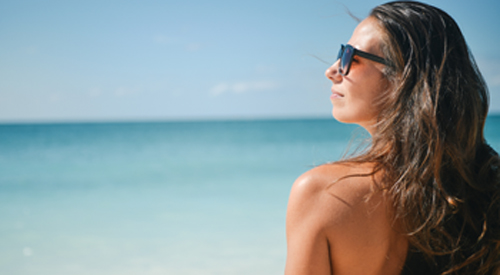 Reef safe is a term that has crept into the sun care market over the past year or so because the main two chemicals used in traditional sun cream are oxybenzone and octinoxate, and these have been proven to be irreparably harmful to coral reefs and marine life. However, it is not just the environment suffering. These chemicals could well be contributing to ill health and are known to be hormone disruptors. Therefore, as we plan for our annual summer holidays it is a smart move to choose sun care that is not only provenly effective, but free of all the hideous nasties that harm ourselves and our planet. Although it is worth doing a little research before splashing out for your holiday essentials, here are a few that we have found.
Organii Sun Milk Cream SPF 50
This vegan, certified organic fluid milk is easy to apply to children and free from synthetics. Instead it is packed with vegetable oils and active plant essences. It does have zinc oxide and titanium dioxide which reflect both the UVA and the UVB rays. £19.89 from www.amazon.co.uk
Green People
This is another natural brand with 78 per cent certified organic ingredients and it is made with sensitive skin in mind. Surprisingly effective, it is scent-free and contains avocado and green tea extracts, to provide an anti-ageing effect too. Starting from £9 per 100ml, the full range is available from Bodywise, Market Place, Henley
Aethic Sovee SPF40
This is expensive but apparently is the only one in the world to have a patented eco-friendly formula. It is one of the rare brands without zinc and titanium oxide but it has a triple filter agains the sun's rays and all this is backed by a huge amount of science. £53 from Victoria Health at www.victoriahealth.com
And for those pesky insects...
Most of the insect repellents on the market contain Deet (N,N-Deithyl-m-toluamide) a chemical developed by the US Army in 1946 to repel mosquitos, which it does effectively, but at what cost to human health? This is still a hot debate. So maybe it is better to avoid it altogether and find something else that works?
Incognito
These products are known to be effective, and Deet free. And this one is three products in one, perfect for light packing as it is a sun cream, moisturiser and insect repellent in one tube. £22 from Holland and Barratt or www.amazon.co.uk
Avon's secret weapon
The Skin So Soft Original Dry Oil Spray not only moisturises your skin after sun exposure, but also repels mosquitos and insects with its citronella oil. £8.49 for 150 ml from Avon directly or www.amazon.co.uk.
Mrs White's Unstung Hero
This is an anti-mosquito eau de cologne which purportedly makes you invisible to mosquitos, ticks, black flies, wasps and bees. It is Deet and chemical free with a revolutionary formula that combines a fragrant, fresh eau de cologne with an uplifting lemon tea fragrance and is suitable for men and women. £15 from www.alittlefind.com