Sculpture in the garden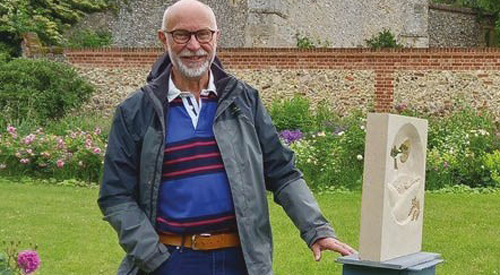 THE flora and fauna of the Chiltern Hills are among the subjects of the many sculptures on display at Greys Court this month and next.
Sculpture in the Garden, which is organised by the Oxford Sculptors' Group, features more than 160 creations of all shapes, sizes and materials.
There is an outdoor trail of large pieces and an indoor gallery with smaller works.
Stewards are available to chat to about the exhibits, which are for sale and visitors can arrange commissions too.
Last year's show recorded almost £50,000 in sales.
John Nicholls, a sculptor and one of the organisers, says there is wide range of artworks on offer, adding: "They're extremely varied both in type and in price, so there should be something for everybody."
John, from Caversham, carves his creations out of stone, his favourite being Hopton Wood, a type of limestone from Derbyshire. It is very fine and particularly suited to carving so is popular for tombstones.
"It's about the best carving stone in the world," he says.
It takes a lovely polish and a nice, crisp edge. It's lovely stuff but it's difficult to get hold of."
He also works with Ancaster stone, from Lincolnshire, and occasionally with soapstone. He also carves in relief on pieces of slate.
John's work is led by the heart.
He says: "When people ask what it represents,
I say, 'Have you got a favourite piece of orchestral music?' and they tell me. I say, 'Well, what does that represent?'
"It's purely abstract. I do things that please me and if they appeal to other people, that's wonderful."
At last year's exhibition, John showed a piece called Chilternscape and this year, he has developed on the theme.
"It was a Chiltern landscape with a red kite cut out in silhouette," he says. "I'm doing something similar this year called Chiltern Triptych, which is a three-part thing with a red kite, some beech leaves in slate and then in the middle a sort of cut-out scene.
"Chilternscape was very popular and I made three of those in the end.
"You cut away the stone and that leaves the image standing proud of it. It's a bit fissile so bits tend to ping off and you have to be a bit careful."
The other organiser is 90-year-old Martin Lorenz, from Wargrave, who found himself with a career in sculpture almost by accident.
Years ago, he was working full-time and took up evening classes in drawing. Then he relocated to Southampton where he found his chosen drawing class was full but the sculpture class was empty.
"So, I said, 'Well, all right' and actually fell in love with clay and making mud pies and things," he laughs.
Martin spent some time living in the Soviet Union but had to leave in 1971 after being caught up in the country's diplomatic spat with Britain. Britain kicked out 100 Russian economic diplomats because they were economic spies and the USSR responded.
Martin recalls: "They had to find 33 Brits and there weren't that many — it would have cleared out the embassy."
Back home he, got talking to Shiplake sculptor Clive Duncan, who encouraged him.
Martin says: "I started off being interested in human heads and portraits and suddenly found that I could make a living at this instead.
"I found that you have to be good, which I wasn't then, lucky and well-connected because people with money will say, 'I'd like my granny's portrait'."
Martin will be exhibiting a head portrait of artist Simon Allison as an example of his work.
He made it during a class run by Allison's wife, artist Jane Hamilton, at the Phoenix Studio in Towersey, near Thame.
"[It's] basically to tell people, 'Look, if you want to commission a portrait, come to me," he says.
Martin had also been commissioned to do animal sculptures after being asked, "Do you do dogs?" This result was "dog 1", a model of a Labrador called Harvey.
He was then asked by a relative if he could create a dog portrait for a neighbour who had looked after her when she was unwell, leading to "dog 2", a cockapoo called Merlin.
Another request led to Shaggy Dog but that won't be on display at Greys Court.
Another of Martin's pieces is called Bluecoat Boy and was created for Reading Blue Coat School in Sonning.
"It's a tiny little thing which they used to give away as prizes," he says.
He also made some religious pieces for the Shrine Shop in Walsingham, Norfolk, including Our Lady of Paddington and Our Lady of Westminster.
Sculpture in the Garden is at Greys Court, Rotherfield Greys, Henley, RG9 4PG, from Saturday, June 11 to Sunday, July 17, from 10am to 5pm.
For more information, visit www.oxfordsculptors.org/event-details/greys-court-2022