Smart Works is on the job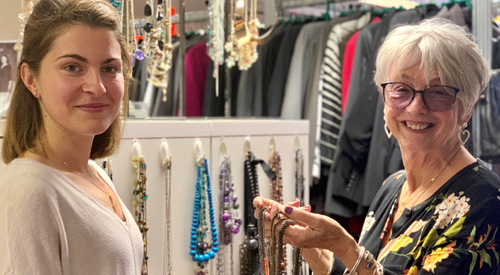 Smart Works charity helps women to get back into the workplace. Henley Life finds out how...
Smart Works is a charity that helps unemployed women prepare for job interviews by offering styling and interview coaching. The first session lasts two hours, clients meet with two dressers for one hour to work out their interview outfit (which they get to keep). This is followed by a one hour session with a coach to prepare them for their interview. The second dressing session lasts about one hour.
With a huge success rate, 68 per cent of Smart Works Reading's clients go on to get the job so the charity helps more than 400 women every year across the Thames Valley. Reading is one of seven Smart Works centres in the UK, with the Duchess of Sussex as its high profile, national patron. The Reading centre was set up four years ago by local businesswoman Sarah Burns after she left her high-powered career to become a coach.
National supporters of Smart Works include Jigsaw, John Lewis, Marks & Spencer and Bobbi Brown, whereas Henley supports the growing charity through its local businesses, such as Fluidity and Vinegar Hill, as well as through charity events. Local corporates offering support with fundraising and hands-on support include Microsoft, Verizon and The Oracle.
Smart Works' variety of clients, aged between 16 and 67, appreciate the calm expertise of the volunteers and the extensive, good quality wardrobe at their disposal. Clients have included an ex-GB Paralympic rower whose funding ran out, a transgender woman who managed to get her job at British Aerospace and the gamut of women whose lives have been affected by loneliness, bereavement, a move or a divorce. The jobs they are aiming for are equally as varied from florist, to lab technician, IT positions and carers.
"And that's the thing, life can happen to you. Yes, we have what people would probably expect; ex-offenders, people from Berkshire Women's Aid (Domestic Violence charity), those with diagnosed and undiagnosed mental health issues, transgender clients, but then we have had women that people may wonder why they need support.
"But you never know someone's journey," explained Sarah. "The common link is confidence – lack of self belief and worth.
"We have a lot of women who have brought up children, ten years later they come into the work world and realise it has completely changed. "I think the confidence we give and the practical non-judgemental approach we have dictates our success."
A CLIENT'S STORY
Gabi Matei is a bright, young mother with two degrees from her native Romania. She has a linguistics degree in Philology, and also a teaching degree. Gabi moved to Cyprus from her home when she graduated and spent six years there, where she also obtained accounting qualifications. She and her husband moved to Reading more than two years ago so that he could work in finance. At the time of their move to a new country and a strange town, the couple had a six-week-old and a toddler, which meant working was out of the question for Gabi. At one point Gabi managed to get seasonal retail work with Argos, but in a bid to improve her work prospects she went to Reading Voluntary Action to translate her Romanian diplomas into useful qualifications to use here. It is this community charity that referred Gabi to Smart Works.
"I am in a much better place now than when I started, " said Gabi. "Before coming here I was confused and a bit scared that I wouldn't do well at my interview. They really helped me in gaining more confidence."
Now that Gabi's daughter, three, is at nursery and her son, five, in reception, she had applied for retail work as a Customer Service Assistant in retail a year after her last job. Following her first two-hour session at Smart Works, she received a second interview at Debenhams in Reading, and eventually was offered the job, which she started in October, working 26 hours a week on Fridays, Saturdays and Sundays while her husband looks after the children.
"I was worried that being at home for so many years that maybe they would not select me for a second interview," said Gabi. "I got some tips on actually how to sell myself to get the job. I went there thinking that I would do my best because so many people got involved in helping me and it made me think that I had to show them the best I am to get the job."
You can hear the excitement in her voice about her new job, and the confidence she has gained from her hours spent with the coaches and dressers at Smart Works. She clearly enjoyed the process of meeting her two dressers, trying on lots of clothes and accessories, and then spending hours in the coaching and interview office. Gabi was one of the first Smart Works clients to be dressed in The Smart Set, the capsule collection of pieces launched in September by the Duchess of Sussex, who is a patron of the charity. Gabi wore the Jigsaw trousers and blazer, key pieces from The Smart Set, and at her second dressing she was given her capsule wardrobe of 8-10 items, and her goody bag of toiletries. Gabi excitedly described her new work wardrobe of the Misha Nonoo white shirt, a fabulous black bag from Smart Works supporter, Knomo London, as well as two dresses, two pairs of trousers, a red blazer, black shirt, a patterned top, belt and a necklace.
"It is really good when you see that so many people are trying to make you feel better and trying to gain even more confidence so I have met a nice team here and I can't thank them enough for all they have done for me. There are some incredible women, who really do a great job and it is so nice to see that others care about you and try to uplift you. "
HOW CAN YOU SUPPORT SMART WORKS?
* Donate Your Clothes, particularly:
• Good shoes in all sizes, especially flat shoes
• Size 12 plain tops
• Any size 16 clothes especially dresses, tops and trousers
• A-line dresses and skirts in size 14-16
• Coloured suit jackets
• Handbags
* Donate funding or raffle and auction prizes
* Donate your time as a:
• Dressing volunteer if you have an eye for style, patience and people skills
• An interview volunteer with a background in HR, recruitment, coaching or senior management experience
• As a marketing/administration volunteer
• A wardrobe volunteer curating the donations
• A fundraising volunteer
*Attend a Smart Works Charity Event: Recent events include a panel at the Henley Literary Festival, the Annual Henley Fundraising Lunch at Badgemore Park with guest speakers (120 women attended and raised £13,000), the Fresh Contemporary Art Fair at Ascot Racecourse, and a Guards Polo Charity day in August which raised £21,000.
Visit www.smartworks.org.uk for full details