Snap judgements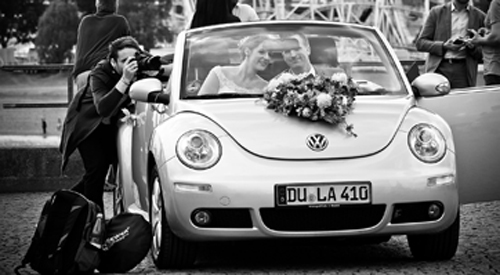 How to get the best photos for your wedding day
Many years ago, before camera phones became ubiquitous, friends of mine got married and 'did a favour' to a struggling photographer they knew by hiring him for the day. As Oscar Wilde apparently said 'no good deed goes unpunished'. When my pals got the pictures back there were only a few of the guests, or the bride and groom. In fact, most of their wedding photos were of a young woman the photographer had taken a fancy to and, given the photographic evidence, followed around the entire day. Amazingly my friends were extremely forgiving and even paid the chap. If you want a true and visually pleasing record of your big day, then getting the right photographer is vital. Knowing what you want is also key as wedding photography has become quite diverse in recent years.
Traditional
This is probably what springs to mind for most of us when we hear the words 'wedding photos'. Traditional photos are posed – the bride and groom, the wedding party, either side's family, the bride with the bridesmaids etc. The only downside with traditional wedding photos is that they can be quite time-consuming.
Reportage
The photographer takes spontaneous and candid shots – nothing is posed. This is an increasingly popular style of wedding photography despite the fact that almost every guest will have a camera phone. The main disadvantage with this sort of photography is that someone important to the bride and groom may be left out.
Contemporary
Your wedding as fashion shoot. Yes, you will get amazing and dramatic images that will be totes amazeballs for your Insta but setting up these shots and getting them just right is incredibly hard work and you could miss out on a substantial part of your day.
A possible solution, if you are torn about what style of wedding photography you want, is to have elements of all three. Or, if your budget stretches to it, have a mixture of traditional and reportage on the day and do the contemporary shoot on a different day entirely. Speaking of budget, like everything else with your wedding you need to decide how much you are going to spend before you even think about approaching photographers.
The average wedding in the UK costs £17,674, almost half the average annual salary (according to the Office of National Statistics). On top of that, planning a wedding takes a lot of of time – it's like having a second, unpaid, stressful job. Experts suggest that a comprehensive wedding photography package will cost between £1,500 and £2,000. That's a lot of money by anyone's estimation, but photos and video will be your permanent reminder of what is hopefully one of the best days of your life. Once you have decided your budget it's time to look for a photographer. Apart from looking in the Henley Standard and on Google talk to your friends and ask them for recommendations (and who to avoid).
There is a number of Facebook groups locally that are also great for recommendations. Until recently Henley Parents was the go-to site, but for technical reasons they had to move. If you want to join, or re-join, contact them on henleyparents@groups.io
Most photographers have their portfolios available online and you will know instantly if their style is for you or not. Like so much else when planning a wedding, do be prepared for disappointment, as popular photographers are booked out months and, in some cases, years in advance. Once you have a shortlist of possibilities make an appointment to meet the photographers in person. You need to know that the package you purchase includes everything from them turning up on the day to the prints and/or memory stick you receive. Do read the small print. You need to know if the photographer will be taking the shots themselves or sending an associate. If it is the latter, then you will need to see their portfolio and also meet them in person. You might think meeting 'in real life' is overkill, when you have so much to do, but you need to know if you gel. The person taking the snaps will be an important part of the day and you don't want someone who gets on your nerves. You really don't want to snap at your own wedding.
Ask the photographer if they have a back-up plan in case of accident, illness or injury and try to meet the person who would come in their place. Go prepared with questions written down so you don't forget. Once you have met them and decided they are right for the job send them an email confirming what they have agreed to do (and be sure to get them to confirm receipt). This is important because every one of us is victim of hearing what we want to hear at times. Once it is in black and white it becomes clear both to yourselves and the photographer, and, like everything else in life, clear communication is important. Once the day is over and even though you've posted all the snaps to social media, you still get to whip out the wedding album when visitors come over. It's traditional.