Spotlight on Cromwell's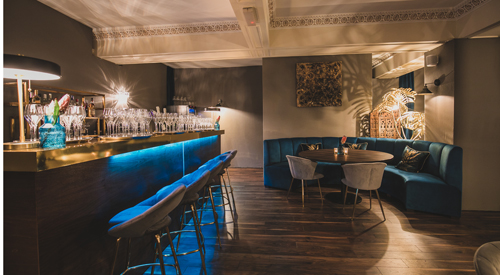 The new fine dining pop-up at Phyllis Court Club, Henley-on-Thames, is open for just 60 nights and Henley Life readers have been exclusively invited to sample the top-notch fine-dining experience.Henley Life's Vivienne M Clark recently visited with her partner to check out this exciting addition to the private members club and shares her experience of the expertly crafted seven-course tasting menu at Cromwell's.
I've done my research and I'm particularly impressed with the field-to-fork philosophy led by executive head chef Carl Jackman and his dedication to sourcing locally where possible. Excited about what was in store, we received a warm welcome into the new cocktail bar area to be served a superb glass of Pol Roger champagne.
The pop-up is in the former Dining Room at the Club which has undergone nothing short of a complete transformation - with velvet furnishings in a glamorous teal blue shade and spectacular gold leaf lighting. Busy with groups of friends and couples, the overall effect is of a relaxing ambience with well-placed tables lining each side of the room and ample space to stretch out. As we'd expect from Phyllis Court Club, there is an elegant aesthetic that speaks of a bygone era and this Cromwell's feels more luxurious and indulgent somehow. The menu is a work of art and each creation is paired with a delicious wine expertly described by the knowledgeable sommelier.
The waiters proudly presented local produce, like Swiss Farm's Bosley Patch bread and the evening kicked off with a bacon and egg tartlet. Delightful. I was completely blown away by the first course of artichoke, ricotta and parmesan ravioli with lamb consommé and truffle; a wonderfully flavoursome dish. We sipped an unusual white wine, Alaberino Terra dei Axel, Nia de Senora from Rias Baixas, Spain. This was followed by a light and flaky turbot with creamed celeriac, seawater foam and pickled grapes with an anchovy crumb, my husband's favourite.
Next the vegetarian dish of roasted aubergine accompanied with tamarind yogurt, spicy basil jelly, candied pecans and black sesame sauce was a light mid-course treat. The game course of duck breast with blackberries, forest mushrooms and an orange jus was an explosion of flavour and melted in the mouth. This was followed by a duo of beef; an exquisite-tasting Wagyu sirloin & Aberdeen Angus braised short rib.
Dessert was a lemon curd, verbena cream, burnt meringue with freeze-dried raspberry, olive oil sponge and caramelised pear purée – delicious on its own, but enlivened when matched with a South African Jessica Saurwein Chi Resiling 2018. This was followed by a warming confit of apple steamed pudding with stem ginger caramel and Speculoos ice cream. This was paired perfectly with a French Chateau Labon 2016 Sauternes.
The service was impeccable throughout and each dish was enthusiastically delivered with Andy, the manager, justifiably proud of what the team had achieved. To brighten up a dull evening in November I can think of nothing better than dining in the plush pop-up restaurant, Cromwells. Superbly crafted dishes are elevated by a creative chef with a passion for his locally sourced ingredients and presented by an equally passionate team of waiters. The experience easily complemented the beautiful surroundings of Phyllis Court Club. It's a jewel in the local foodie scene.
READER OFFER
Usually reserved for members, Henley Lifereaders have an exclusive opportunity to sample the expertly crafted seven-course tasting menu and perfectly paired wine matches at Cromwell's on a limited number of nights. The restaurant is open Tuesday to Saturday evenings until Saturday December 21. The tasting menu is priced at £68pp with paired wines at £45pp with a 12.5% surcharge applicable for visitors.  Call 01491 570517 and quote Henley Life Reader Offer for your opportunity to book, subject to availability. 
Phyllis Court Club is renowned as the luxury private members club with a rich heritage and riverside accommodation. The elegant mansion is set in 18 acres of land and overlooks the world-famous Henley Regatta course on one of the prettiest stretches of the River Thames. In recent years the club has been revitalised with the addition of a state-of-theart fitness centre and swimming pool. There is a variety of dining choices and a vibrant calendar of events. If you are interested finding out more about the many benefits of Club Membership, please contact membership manager, Jez Schofield, on 01491 570510 or email: jez.scholfield@phylliscourt.co.uk