Take Hart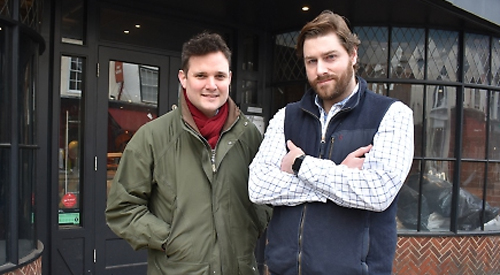 Two local restaurateurs have decided they want to change the food scene in Henley, starting with their new tavern. Henley Life's Cindy Burrowes went to meet them at their Binfield Heath establishment, The Bottle & Glass Inn.
A few years ago David Holliday and Alex Sergeant moved their families out of London to work in the Henley area. They started at the Hurley House Hotel, got it up and running after a significant remodelling into a high-end restaurant with rooms, and then moved on, as business partners, to The Bottle & Glass Inn. They now have their sights set on Henley with the Hart Street Tavern, due to open this month.
"We want to ignite the food scene in Henley, the same way Tom Kerridge did in Marlow," said David, who is an unusually open and talkative chef.
"It would be great for more restaurants to open and we would love some more hospitality businesses in the area."
David, the chef, and Alex, the wine connoisseur, also want to change the attitude towards the hospitality industry as they have such a love for it. David cites the differences between the UK and the USA to illustrate his point.
"In the UK it is inherently thought of as 'You've stuffed up in life' if you work in this industry, whereas in the US you are given so much respect as a server in a restaurant you can send your kids through college.
"Our guys work really hard and bust themselves to the bone, but we want them to have a life outside of work too," said David, adding that his staff are often asked 'What they are going to do when they grow up?' He and Alex are adamant they want to look after their employees who they feel should only work 45 hours a week, unlike many other areas of the hospitality industry. David was the Head Chef at the Pot Kiln in West Berkshire before moving to the Harwood Arms in Fulham, which achieved a Michelin Star in 2010 and still is the only Michelin Starred pub in London. Alex met David there, where he managed the operation for more than seven years.
"The beauty of our relationship is to drive the business forward and to oversee the execution of the food, approachability and the menus," said David, who will be back in the kitchen again at Hart Street, although he did make 1,148 wood fired pizzas over the Easter weekend at the Bottle and Glass.
"Alex is as good as it gets in wine and his operational skill is second to none."
The pair are very excited about their new Henley venture having had their eye on several sites for some time, including the Red Lion Hotel. They also considered opening something in the Cotswolds, or Marlow. "Henley struggles for independent operators, the High Street is taken up by bigger brands so it became obvious that it was underserved and we felt it was ready and we could complement what was there," said David.
"We had looked for a site in Henley for quite some time and the right one didn't quite fit. Something about this one seemed to fit." Their new venture is in the cavernous, bowfronted site, which previously housed the steak restaurant Cau. The Hart Street Tavern will be food-led, not a bar or pub, but there will be smaller plates such as charcuterie as well as breakfast, lunch and dinner, seven days a week, either inside or outside in the large covered garden at the back. The main dishes will be cooked on a charcoal grill, or in a wood oven and the produce will be very local.
"We have a passion for open fire cooking and we are putting something together for Henley, serving produce from Henley," said David, "The idea is that you can walk in at any time of day and have whatever you like." This could be a luxury breakfast or a côte de boeuf that has been reared on a nearby farm. There will be local bottled beer alongside a lengthy wine list, much of which will be offered by the glass.
"We basically sell food, booze and hospitality," said David with pride before beginning to describe the bespoke furniture and the artwork. The Hart Street Tavern has been developed by Jeremy Spratley of Spratley and Partners, the Henley based architects who worked on the likes of the Hurley House Hotel and the Ruskin School of Art. Their brief has included guiding the production of specific, bespoke furniture and advising on the ambience which will be created by the original artwork. This latter comes from a Mayfair gallery with a prestigious pedigree and is just an example of the thought that David and Alex have invested in their new, and not inconsiderable, venture.