The Thames Traditional Boat Festival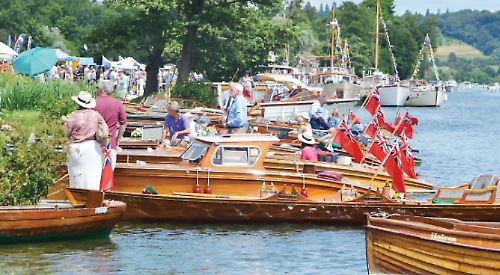 Henley's unique boat festival originated in the 1970s with concerns over the demise of many unpowered craft, seen neglected and rotting along the River Thames. Thus the idea of an annual rally was conceived to celebrate beautiful, traditional river craft, both powered and unpowered. The first rally took place in 1978 at Fawley Meadow, organised by the River Thames Society with 84 craft and more than 800 crew attending.
In the years following the inaugural rally the 'Trad' expanded with new categories and activities but always with the emphasis on the preservation of beautiful craft, in all shapes and sizes. The event had an increased public following but the name was changed to Thames Traditional Boat Festival in 2015 to show the public that it was an inclusive event and not just for boat owners.
The event has always relied on volunteers from the organising committee to the ticket takers, with the hope that any profit could be used to sponsor apprenticeships in the art of traditional boatbuilding. The committee consists of Lady Judy McAlpine and Adam Toop as the co-chairs, with Sir Steve Redgrave as Patron and John Skuse as President.
They are supported by an experienced and passionate crew including Clive Hemsley, Lyndon Yorke, Clifford Colbourne, Toby Forester, Peter Harris and Sue Harris. As always, the main focus of the weekend event is the magnificent array of traditional boats lining the riverbank at Fawley Meadows. However, the organisers hope that with the addition of more varied attractions and catering provided by the likes of the Crooked Billet, they will continue to widen the event's appeal and really provide a weekend to remember for all participants. The past three years have seen a huge increase in interest and the numbers of visitors are now in thousands, not hundreds.
This is the only "inclusive" family event held on the river in Henley with an aim to encourage young people to understand the pleasure of "messing about in boats" and to realise that there are boat and river-related employment opportunities, which offer that elusive mix of work and pleasure. To this end The Trad has teamed up with the River and Rowing Museum and other organisations with similar aims. The hope is that parents will come to see this event as an essential part of their children's education and entertainment –as well as just a lovely way to spend time by the river.
The 2019 Thames Traditional Boat Festival
Friday 19 to Sunday 21 July
Fawley Meadows, Henley on Thames, RG9 2HY
Tickets and information: www.tradboatfestival.com