Thank you for the music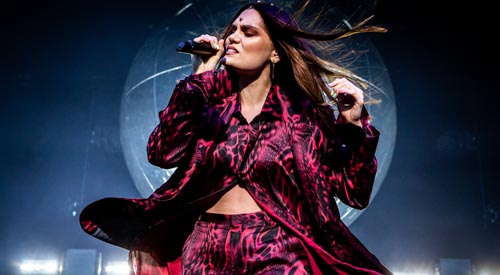 Henley festival must surely be one of the most eclectic events in the UK. Where else could you dress up to the nines, stroll among artwork worth tens of thousands of pounds, see an inflatable octopus, robotic creatures, musicians on stilts and enjoy comedy and great music from a variety of top artists?
Throw into the pot the beautiful backdrop of the River Thames with fairylight-lit boats sailing past, dining on scrumptious food from top local venues or feasting on a silver service picnic (complete with candelabras) in the car park. If an alien landed in Henley during the annual five-day festival they'd probably think we humans were crackers! This year's festival was a corker. The brilliant fireworks were back in their old location and revellers were buzzing about the acts on the floating stage. There were plenty of drink and food options (including Spice Merchant, Garden Bistro by Jimmy Garcia, Snob Lobster, Halloumi Guys and the very popular mini Moet Chandon stall). Boy George and Tom Odell were among the big-name singers appearing this year and Jo Whiley showed why she's a queen of the airwaves with her DJ turn. I was lucky enough to see Jessie J on the Thursday night and Bjorn Again on the Saturday. Jessie was fab and thrilled the crowd not only with her fantastic voice, but also her warm personality and the way she bonded with idolising young fans who'd squeezed their way to be front of stage.
Watching Abba tribute band Bjorn Again was like watching the real thing. They sounded so much like the originals it was uncanny. The high-spirited, bumper Saturday night crowd (including PM Teresa May) sang and danced along to every well-known and well-loved hit (as did the people on the passing boats). It was a joyous evening and I'm probably not alone in hoping they'll be invited back.
The festival, which this year was raising funds for the Teenage Wilderness Trust and the Charlie Waller Memorial Trust, is clearly a huge organisational task and the 2019 team can pat themselves on the back for a job well done. Let's see what 2020 brings us…
Review by Debra Aspinall