The beauty of Argan Oil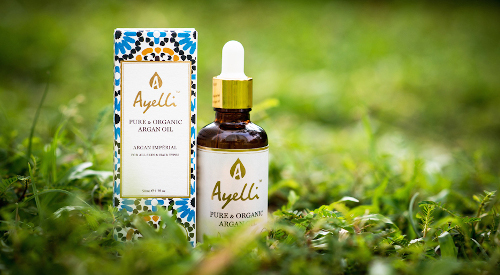 As the seasons change and we move into colder weather, our summer-blasted skin and hair tends to need extra TLC, particularly when the central heating starts to come on.
For some years now Argan Oil has been touted as a miracle cure-all, but particularly as an intense, nourishing moisturiser for body and hair. But why is it so expensive?
Argan is also known as Moroccan oil and, as the most expensive oil in the world, is sometimes referred to as 'liquid gold.'
It comes from the kernels of the nuts of the Argan tree (Argania Spinosa), which only grows on the coast of Morocco, and has done so for millions of years.
Therefore it is vital to the indigenous Berber population of that region as, from time immemorial, they have used the oil for food and for myriad health benefits. The nut shells feed their livestock, the leaves provide a much needed canopy of shade, the roots keep the desert back and the wood is used for building and crafting.
However, these trees began to reduce in number resulting in the Argan forest of Morocco being declared a Biosphere Reserve by Unesco in 1998.
However, the world's desire for Argan Oil has increased rapidly since then. This is because the precious oil, packed full of Vitamin E and antioxidants, is proven to improve many skin conditions, reduce wrinkles and repair damaged hair, with just two to three drops at a time.
The culinary oil takes 15 hours and 30 kg of fruit to produce one litre and is known to regulate blood sugar levels, lower bad cholestrol and strengthen the immune system.
As a result of the world waking up to Argan Oil, there has been a need to maintain and increase the Argan forest, improve production of the oil, maintain sustainability of it, and in doing so improve the lives of the Berber women who make it, by hand, as they have been doing for
centuries.
So, as public consciousness turns towards the environment and sustainability we must pay for the privilege of using Argan Oil. Arganic and Ayelli are both companies set up by socially-conscious women to provide single-source, ethically-produced Argan Oil that benefits the
communities from where it comes. Arganic is British based and also produces the culinary oil, which is sold, along with the natural beauty oil, through the likes of Whole Foods Market, Marks & Spencer and Planet Organic.

Effective uses for Argan oil:
* For stronger nails and softer cuticles
* As a nourishing eye make up remover
* To reduce stretchmarks and scars as it is anti inflammatory, so can help many skin conditions
* To prevent dry feet and toenails
* To nourish and hydrate the skin (a couple of drops can be added to regular moisturiser or night treatment).
* For curly hair (it preserves curls but conditions the hair)
* For flyaway or dry hair it reduces frizz. A few drops on the ends of the hair before blowdrying leaves it soft and shiny