Meet The Creative Duck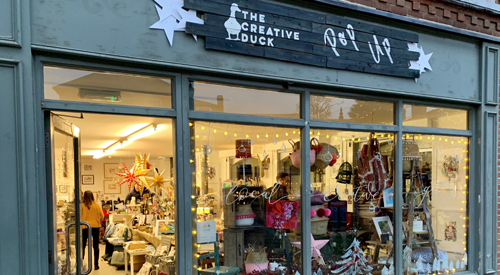 The Creative Duck is a network of 'creatives' who meet to give each other support, to share information and to learn. It was born out of an idea three friends had over 'the play-doh table' about two years ago. It has grown into a thriving network that runs seminars, an online shop and pop up events. Cindy Burrowes went along to one of the Creative Duck's Coffee and Conversation mornings in the Bull on Bell Street to find out more.
A 'creative' is someone who makes something unique, using their imagination, and it can cover all areas of work. And The Creative Duck has successfully formed a local network for these people to meet, share information and learn things that will help them in their, mostly sole, ventures.
The room was packed for one of their regular get-togethers, which this time featured a short talk on cashflow from a financial expert. Attending were fine artists, website designers, a sculptor, photographer, a creative media manager, two friends with a logo sweatshirt company (The Numbers), and a pair who were starting to sell their recycled waxed material sandwich bags.
Two of the Creative Duck founders were running the show, Sarah Gilbert and Nicola Nott. Sarah worked in London marketing agencies, became a teacher for five years and then set up the personalised gift box service, Box of Smiles. Nicola studied textile design and ended up as the Womenswear Product Development Manager at Burberry. The third team member is Joey McGinn, a travel commissioning editor for trend forecasters WGSN and a lecturer in fashion journalism at Central Saint Martins. The trio met when their children attended the same infant school. They became friends and started putting their creative heads together.
"It was nearly two years ago – and the idea was for us to support and inspire creative people as well as our own businesses, " said Sarah. The Creative Duck, whose name derives from the riverside location and a love of a quirky name, was born to unite a group of people who often work in isolation, and find it hard to network. "We were passionate about pitching it to creatives, especially around Henley, as there is a plethora of talent – it can be a creative service, can be a chef, web designer – it can be something traditional executed in a really creative way," said Nicola, who runs their online gift shop. The level of service provided by The Creative Duck includes networking, signposting and an online directory of a bank of experts, which will soon be made available to the public. The online shop stocks the work of 60 different local Creative Duck designers and makers with new products added weekly, and a spotlight on a different artisan each week.
"We do love to celebrate peoples' talent. We have many one-off items that you can't get on the high street," said Nicola. "It is really good for gifts, free delivery, a hand written card from the seller and quite a few personalisation options. It is really convenient , a thoughtful alternative to going mainstream. It's cool, edgy and different."
So, in a year's time the trio's children will be in school full time, and Sarah says they hope to have grown their business to two to three days work a week each, without any financial aid from another party. A huge achievement in three years. Their next coffee and conversation is on April 25 and their next event is 'PR 101' with PR expert Alex Williams on the evening of April 29 at the Hotel du Vin.
SAVE THE DATE
The Creative Duck's Henley Creative Week June 27 to July 1, The Old Fire Station Gallery
This pop-up shop will feature 20 new sellers as well as workshops including Annie Sloan Chalk Paint with Lynne Lambourne, a talk on trend forecasting, a jewellery making workshop with Julia Burness, illustration and prosecco with Mark Making, screen printing with Liam Biswell and more. There will also be children's workshops
For further information and tickets visit: www.thecreativeduck.co.uk