The ever-changing Cindy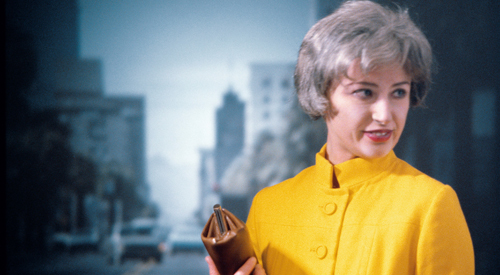 Cindy Sherman is widely regarded as one of the most important and influential artists of our time. The National Portrait Gallery has staged a major new retrospective of her work this summer. Cindy Burrowes explains why it is worth a visit.
Day trips to London in the summer holidays were always exciting as a child, and often included a trip to a gallery of some sort. The National Portrait Gallery has always been useful for family visits as it offers something for everyone, because its subjects are nearly always human. This summer it offers a more challenging and enriching menu with its major retrospective on Cindy Sherman.
Now, whether you have heard of her, or not, or whether you like what you see or not, if you are looking for something different, she certainly offers a conversation starter, at the very least. The exhibition comprises more than 190 works and explores the development of the artist's work from the mid-1970s to the present day, including rarely exhibited photographs and films created while Sherman was an art student at the State University College at Buffalo from 1972 to 1976. It also includes a new work.
Widely regarded as one of the world's leading contemporary artists, Cindy Sherman, (born 1954), first gained widespread critical recognition for Untitled Film Stills, the series that she commenced shortly after moving to New York in 1977. It consists of 70 images and was the artist's first major artistic statement and defined her approach. With Sherman herself as model wearing a range of costumes and hairstyles, her black and white images captured the look of 1950s and 60s Hollywood, film noir, B movies and European art-house films. Building on that layer of artifice, the fictional situations she created were photographed in a way that recalls the conventions of yesterday's cinema. As a result, each photograph depicts its subject, namely the artist, refracted through a layer of artifice - a veneer of representation.
The exhibition includes all five of Sherman's Cover Girl series, completed shortly after she graduated from art school, displayed together for the first time since November 1976 when they were exhibited on the inside of the top deck of a bus. Other key works are shown from the artist's most important series including Rear Screen Projections, Centrefolds, History Portraits, Fairy Tales, Fashion, Flappers, Sex Pictures, Masks, Headshots, Clowns and Society Portraits. Cindy Sherman focuses on the artist's manipulation of her own appearance and her deployment of material derived from a range of cultural sources in order to create imaginary portraits that explore the tension between façade and identity. She is famous for her use of make-up, costumes, props and prosthetics to create complex and ambiguous photographic images.
The National Portrait Gallery feels that her work has never been more relevant in the age of selfies and social media to challenge the notion of what a portrait could actually be. Paul Moorhouse the Curator of 'Cindy Sherman', says: "Cindy Sherman's art is completely distinctive. By inventing fictitious characters and photographing herself in imaginary situations, she inhabits a world of pure appearance. "No other artist interrogates the illusions presented by modern culture in such a penetrating way - or scrutinises so tellingly the façades that people adopt.
"Probing the elusive connection between appearance and meaning, her work explores contemporary life – and with sharp observation exposes its deceptions."
* Cindy Sherman runs until September 15. www.npg.org.uk (The photograph here is a reproduction of one of those in the new exhibition, featuring Cindy Sherman's portraits of herself).