The perfect trip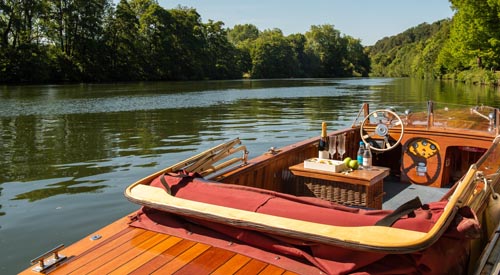 Cliveden House is one of England's great ancestral homes, but it is particularly noted because of its position sitting up above one of the most impressive and beautiful stretches of the River Thames. Cindy Burrowes describes the champagne boat trip offered by Cliveden House for its hotel guests.
Depending on the weather, and your energy levels, you can either walk down the wooded escarpment below Cliveden House, through its National Trust maintained grounds and down to the river, which will take about 20 minutes. Or you can jump into a chauffeured car, which will whisk you to the landing stage in about five minutes. But beware, the walk back up to the house is a good climb up steep paths. So we opted for the quick route, although the grounds really are worth exploring. We were delivered to the mooring of the beautiful Suzy Ann, skippered by the charismatic Captain Ken. Suzy Ann is a wooden launch built in 1911 as a naval service tender to navy ships. She was then powered by a steam engine and would take the servicemen out to their craft on the South Coast. She was then decommissioned in the 1960s but restored and reinvigorated, with a diesel engine, for Cliveden when it opened as a hotel in 1985. Captain Ken is a humorous, and entertaining Rhodesian, who has navigated the still waters of this stretch of the River Thames for 12 years. He explains the history of the Cliveden Estate, and describes in detail all that you see from this little ship.
For example, some of the 375 acres of the Cliveden estate can be seen from the water, along with many of its cottages, some of which can be rented for a holiday, through the National Trust. Captain Ken also described how the river has been resurrected over the last 30 years to now accommodate more than 200 species of fish, numerous water birds, and the general encouragement to use the river by craft, or for swimming.
One can only imagine how much our cousins from across the pond, and from China, will love this serene drift along the still, glistening waters of the river, between the high, tree-covered banks, glass of vintage champagne in hand, and spotting a rare and brilliant Kingfisher above the water. Even on a stormy day, with spitting rain, this was a blissful hour of tranquillity, and something completely different. How magnificent is this waterway, which is on our doorstep?
* Champagne cruises run through Cliveden House at 5pm and 6pm each day for £60 per person including a glass of champagne.