The UK will be OK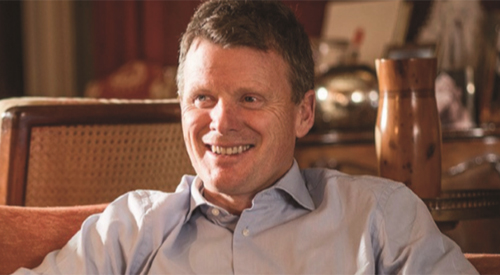 The UK will be OK says Richard Benyon, Conservative MP for Newbury from 2005-2019 and former Parliamentary Under-Secretary of State at the Department for the Environment, Food and Rural Affairs. Married to his second wife Zoe, who makes jewellery for clients who include the Duchess of Cambridge, 'remainer' Richard had the Conservative whip removed last September by Prime Minister Boris Johnson after he voted against the government over Brexit. He then sat as an Independent MP until he had the whip restored by the prime minister last October. Despite losing his seat in the December election, Richard is optimistic about the future of the country post-Brexit and says: "The UK will be OK". Here he talks to Henley Life's Amanda Stewart about his life beyond politics…
I joined Richard Henry Ronald Benyon, who will be 60 in October, in the smoking room of his well-known Englefield House home set in the most stunning grounds just outside of Pangbourne. Having known Richard for nearly 20 years, I can confirm that he's retained his boyish, friendly smile and twinkling, but perhaps now wiser, eyes. With five sons, two whippets and a beautiful chocolate brown cocker spaniel keeping him busy, we chatted about what the last 15 years have brought and what he might do now that he is no longer an MP.
Despite his father, Sir William Benyon, being a Conservative MP and being the great-great grandson of former Conservative Prime Minister Lord Salisbury, Richard never felt destined to go into politics. However, it crept up on him in his 30s "like a disease" and he found himself in the political fray. Richard tells me that another great-great grandfather, also called Richard Benyon, was quite a building pioneer in his day building more than 300 houses locally and around 2,500 in and around London along with nine churches and 11 schools. Also in parliament in Victorian times, that Richard Benyon moved with the political greats of the time, as shown in letters of note from dignitaries such as the PM Benjamin Disraeli.
In his youth Richard attended Bradfield College which lies within walking distance of his estate. Politically, Richard's career actually really took-off after he successfully ousted Lib-Dem MP David Rendel in the 2005 general election, but long before this and in true 'British-style' Richard attended the Royal Agricultural College, followed by the Royal Military Academy at Sandhurst before respectively serving in the British Army with the Royal Green Jackets and serving in both Northern Ireland and the Far East. During his four years' service, he was promoted to captain in 1984 and then transferred to the Regular Army Reserve of Officers. His military life thus ended, Richard has yet maintained call-up liability and also his fit and lean physique.
Politically drawn, in 1991 he was elected to Newbury District Council and soon became Conservative Group Leader in 1994 in opposition to the Liberal Democrats who controlled the council. It took three attempts before Richard eventually beat David Rendel at the 2005 general election. He tells me that while awaiting the final election results, he had a kind of a 'sliding doors' moment as his agent told him early indications were that he'd probably lost, this time by around 800 votes.
"I thought, oh well, that's my political career over. I'll just have to get through this night before I look at my other career options." However, the Conservatives triumphed in Newbury with a majority of more than 3,000 and Richard headed off to the House of Commons with a huge smile on his face.
"When you arrive, you are assigned a locker, just like being at school, there are whips, who are like prefects, and it can take around six weeks before even being allocated an office.
"Some office walls are paper-thin and you can often hear quite clearly conversations next door."
Later Richard earned an office with a window, and a smart view over the River Thames, although he adds ruefully that the terror attack on Westminster Bridge could also be seen from his office.
Richard's home, Englefield House, is stunning with around 300 houses dotted on or around the 14,000 acre estate as well as a deer park. The main country house comprises around 15 bedrooms. Richard's parents modernised the property repairing the roof and making it more suitable for modern living. More recently Richard and Zoe have made more contemporary changes to suit a large family in a house that has seen change in almost every era.
"The historic bathroom-to-bedroom ratio made us muse as to just how often our ancestors bathed, or indeed did not."
Richard, who according to the Sunday Times Rich List in 2019 is worth £130 million, modestly shrugs this off when I mention it, but answers far more easily when I tackle him about his Mother's Day plans.
"A visit to church followed by time with the family and perhaps a country walk with the dogs. That's a pretty standard Mother's Day here," he says.
So what now for the former MP who is one of the Daily Telegraph's so-called 'saints' from the 2009 MP expenses scandal (Richard and Zoe took the conscious decision to not claim expenses for a second home in London – which he could have done quite legitimately)? Edward Crookes, previously from Earl Spencer's Althorp Estate, has the responsible job of estate manager here, but there is still plenty to keep the former MP busy. Englefield House hosts weddings as well concerts and top-level business events. There's also a farm shop to oversee. The estate has an active presence on social media and publishes the Englefield Echo annually for the estate and the surrounding area. Richard also remains a vice president of Berkshire County Scout Council and he is currently considering consultancy roles within the government. And there's always the possibility of more filming opportunities. The estate has often been used as a filming location and all it needs now is for someone to write a Downton Abbey for Englefield House. Maybe a true story about Richard and his illustrious ancestors?