Twyford highlights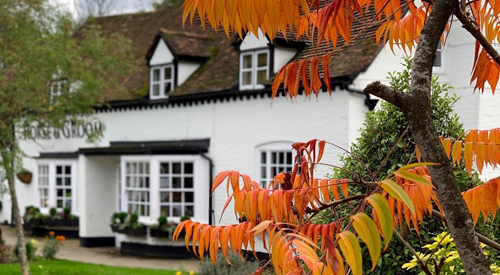 To Henley folk, Twyford may just be a signposted conurbation off the A4 between Reading and Maidenhead, but Henley Life begs to differ.
The tiny town may not be big enough for a week's holiday visit, or even a long weekend, but it is invaluable as a local resource for daily needs.
If you visit by train then the station is worth a peek as it still retains its otherwordly charm. Many a child has been taken for a treat to sit on the old wooden benches on the ancient platform, with a picnic, to feel the thrill of the Reading to London Intercity speeding by. Locals have been known to say: "Twyford has it all, why go anywhere else?"
For a small place it does seem to have one of each: a designer photography studio, a pottery café, a lighting shop, an Indian restaurant, a post office. The advent of the Waitrose supermarket many years ago no doubt changed Twyford's fortunes as it was one of the first of its kind in the area, and has accessible and ample parking.
Many more people have 'popped into' Twyford in recent years, and discovered all the other gems it holds from the Waitrose car park. H.F Newberry is a fantastic card and gift shop and is next door to The Florist, which often has perfect gifts in the form of inexpensive potted flowers. Just up the road is the Berkshire Dolls House Co a family-run business for more than 25 years that sells all manner of dolls house paraphernalia, including local handcrafted items. King's Goldsmiths is a hidden gem that delivers a customer-driven service with a personal touch. Don't be fooled by the understated exterior – the King family have the creative flair to turn a tiara into a necklace, or a bit of costume jewellery into a family heirloom.
In terms of families there are two stalwarts on the outskirts of the town. H.W. Hyde & Son grow award-winning lilies from their ramshackle farm on New Road and welcome drop-in visitors to buy their stunning flowers, at incredibly reasonable prices. Just up the road off the A4 is Hare Hatch Sheeplands with its famous farm shop, in house butcher, COOK ready meal freezers, a café and a garden centre that specialises in succulents. In terms of plants there is the Big Plant Nursery and two garden centres, Dobbies and Ladds, along the A4, as well as Neptune home store. To top it all Twyford has its own microbrewery at Ruscombe's Binghams Brewery that has an on-site shop and offers tours. There is also one of England's top-ten vineyards on the outskirts of Twyford at Stanlake Park, which again offers tours and has a shop where wine tasting is encouraged.