Vicky Thornley: Life after rowing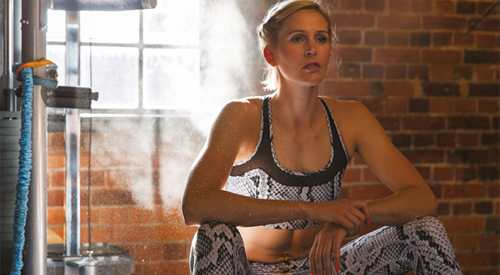 PICTURE a young Uma Thurman mixed with a dash of Gal Gadot and what have you got?
May I present Olympic medal-winning Henley rower Victoria Thornley.
Despite the blonde hair, the pretty face and the six-pack, the thing you notice first about Vicky is her height.
She has been 6ft 3in since her schooldays in Wales and how do you cope with that when you're young?
While the shorties among us might only dream of all those luxurious extra inches, it was by no means a dream come true for a sensitive teenager.
Vicky toiled with a lexicon of unkind nicknames, including Yeti and Twin Towers, and despite being besieged by modelling scouts on a visit to The Clothes Show with her mum as a teenager, she was later turned down by four London model agencies for, ironically, being too tall.
It was only when her mother Gina applied for her to join the Sporting Giants initiative for tall people aged between 16 and 25 in 2007 that she finally found her feet.
Vicky, now 34, says: "They were looking for women over 5ft 11in and men over 6ft 3in.
"Mum saw the advert and said I should go for it as I was actually the height they wanted the blokes to be.
"At first I thought I'd be chosen for volleyball because I was okay at netball at school – mainly because I was so tall."
But Vicky was picked for the rowing programme, despite knowing nothing at all about the sport.
"I sort of knew who Steve Redgrave was but otherwise I didn't have a clue," she admits.
"But it was great finding something for which my height was useful as it was something I was conscious about growing up."
Vicky had actually been a successful teenage showjumper but her height got in the way there, too.
"I competed riding ponies until I was 15 years old but then my legs got too long and I found I was knocking the fences down with my feet," she says.
She was good enough to compete at the Horse of the Year Show but how did she know she'd be good at rowing?
"I didn't at the time," she admits. "I had zero idea of what rowing was and had never even seen rowing on TV before I started. "However, looking back, I had learnt a lot during my years competing with horses. Most importantly, I had developed a strong work ethic and if you have that you will get reasonably far in rowing as it's certainly not an easy sport."
Despite the difficulty, Vicky found she was a natural and after just 18 months was in a winning crew at the under-23 world championships. She says: "I was very inexperienced and had no preconceived ideas of what it would be like. I just tried to row as hard as I could every stroke and luckily I was in a boat with eight other girls who knew what they were doing.
"I remember crying on the podium as they played the national anthem. It was a very special moment and a lot of the girls in that boat are still great friends – the sport builds lifelong friendships."
Rowing brought her further accolades, including a silver medal at the Rio Olympics in 2016 in the double sculls when she was partnered with the UK's most decorated female Olympian Katherine Grainger.
It also brought her husband Ric Egington, a retired Olympic rower himself, whom she married at Leander Club in 2020.
"We met through rowing," she says. "I was part of the under-23 team and he was in the seniors. We met at the GB rowing base and then started chatting on Facebook before having our first date in 2009."
The couple now live in Bix with their German shepherd Enzo.
Vicky now plans to join her parents in the residential and holiday caravan parks business they have run for more than 50 years but being retired from rowing doesn't mean she has lost her celebrated self discipline.
She still follows a regular morning routine – waking at 6.15am, washing and brushing her teeth and meditating for 10 minutes.
She says: "To build a meditating routine I have found doing it first thing in the morning is the best way to maintain consistency. It is also a great way to start the day with a clear and alert mind."
Vicky is also big on breakfasts and has got several suggested recipes on her website,
among them chocolate overnight oats, which she describes as "a sweet, chocolatey, slow release energy breakfast".
She adds: "Feel free to add any toppings you like – my favourites are pumpkin seeds for texture, fruit for sweetness and nut butters because they are delicious."