Wedding trends for 2020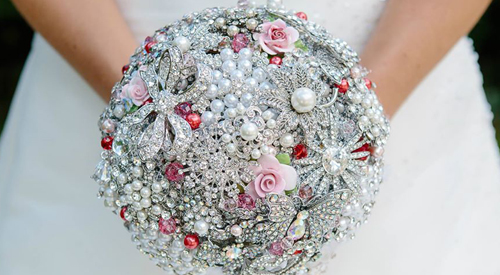 Henley Life's Anne Marie Scanlon has been taking a look at how brides are putting their own stamp on their weddings this year
Quite often Valentine's Day is when a couple get engaged. While there's no doubting that the grand gesture of producing a ring, going down on one knee and asking for a woman's hand in marriage is very romantic, it is a trend that is rapidly being consigned to the dustbin of history.
The 'surprise' engagement ring isn't always a welcome sight. Don't get me wrong, while the proposal may be more than welcome, these days couples like to choose their rings together. The traditional diamond ring remains a perennial favourite, but in 2020 jewellers expect to sell more coloured stones as engagement rings.
The engagement ring isn't the only part of the wedding rules that has changed. The traditional wedding – white dress, veil, bridesmaids in absolutely horrific concoctions and a cake that cracks teeth has undergone quite a quiet revolution in recent years.
The key elements of the big day are all still there, but have evolved to give bride, groom and cake-makers plenty of freedom to interpret the traditional in a modern and more personal way. The wedding dress is still largely white, but the styles changes with every season, luckily as women come in all shapes and sizes, there is always a variety of styles to choose from.
The favourite trend for 2020 is 'froth' – that's froth not frills (think the late Queen Mother). Frothy frocks, while not as fussy as the frills of the 80s and 90s is obviously a look that not every woman can pull off.
Thankfully there are plenty more bridal trends to choose from in 2020, and no doubt older brides will be delighted with the 'full coverage' trend which includes higher necklines and full sleeves. Mind you, having been to several weddings over the past two decades where brides spent the majority of their big day hitching up their strapless dress, younger brides might find this look, which is far from frumpy, a more comfortable choice.
The minimalist look is now a perennial trend – this look isn't for everyone (and most women need abs of steel or some very good corsetry to carry it off) as it is all about the cut of the dress with no lace, no beading, no fuss, no frills (or froth) – it's about clean lines and is the height of sophistication – if you can carry it off.
For a short while veils were seen as passé but they've come back in a big way, with a long 'statement veil' being ever popular. For the past couple of years, the 'slogan veil' (a veil with a slogan such as 'I Do', 'Hell Yeah' or 'Till Death Us Do Part') has been trying to happen. Unless you are marrying Justin Bieber (new wife Hailey had 'Till Death Us Do Part' embroidered on her veil) or you're a teen bride trying to annoy your mother then keep the slogans for T-shirts.
There are entire websites dedicated to the horrors foisted upon bridesmaids in the past. The big day is meant to be all about the bride and you really don't want the guests to spend the day goggling at the grotesque outfits the bridesmaids are wearing. In the last few years the idea that bridesmaids have to match has become less popular. This is good news for bridesmaids as one style does not fit all. In a bow to tradition many bridesmaids wear different style dresses but in the same shade. Ideally the bridesmaids' dresses are ones that can be worn again.
Increasingly brooch (or button) bouquets are replacing the traditional floral spray. These sparkly marvels can be purchased or made at home (there are plenty of how-to guides online). If brides go the DIY route the brooch bouquet can be a great saving overall (vintage brooches can be bought in most charity shops) and make a wonderful keepsake that can be handed down to the next generation. Wise brides will also have a small, flower posy to throw as there will be a riot if this very traditional part of the day is left out.

While flowers are leaving bouquets they are increasingly popular as a theme for wedding cakes. The traditional hard white iced fruit cake with a tiny bride and groom on the top is almost a thing of the past. Creative cakes, with delicious fillings, are here to stay.