What to do with the kids over the Easter holidays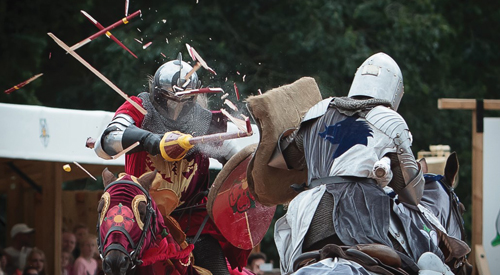 WHETHER your children want to burn off some energy in the great outdoors, try a new activity, or revisit old favourites, there's a host of adventures to explore in the Henley area over the Easter holidays.
Stonor Park has an Easter trail to follow around Tumblestone Hollow.
With a chance to explore and play in the gardens, children can solve a puzzle and bring it back to the visitor centre to receive a special Easter treat.
The trail is open from Saturday, April 9 to Sunday, April 24.
Tickets, adults (over 16) £9, children over 105cm £11.50, children 92cm to 105cm £9.50, under 92cm free. For more information, call (01491) 638587 or visit www.stonor.com
The River & Rowing Museum in Henley will have an Easter theme with family trails and Tiny Toad's Treasure Hunt on offer, including free outdoor Wind in the Willows and river history trails.
The Wind in the Willows Gallery is also open for visitors of all ages. See the enchanting, interactive recreation of the riverbank world of the book. With 3D models, theatrical lighting and music, you can make tea in Mr Toad's caravan, tiptoe through the snowy Wild Wood, hear Mr Badger snoring by the fire and follow Toad's escape from prison as a washerwoman.
There will be workshops with a colouring competition and a chance to win a cuddly Mr Toad and a family ticket, storytime sessions, board games, puzzles and other activities. On selected days and times, there will be a singalong with Maddy.
All Easter activities will run from Saturday, April 9 to Sunday, April 24 from 10am to 4pm and are included in the price of a general admission ticket.
The River & Rowing Museum now operates a walk-up ticket service with no pre-booking, call (01491) 415600, email museum@rrm.co.uk or visit www.rrm.co.uk
The National Trust is putting on Easter adventures in nature trails at several grand locations near Henley. At Greys Court, with its setting in the Chiltern Hills, there is plenty of terrain for kids to explore. Spring bulbs will be surfacing along with crab apple blossom.
Basildon Park has pretty buttercups and daffodils along with swathes of bluebells appearing. There are lots of picnic spots in clearings among the trees, with benches that have views overlooking the Thames Valley. Greys Court and Basildon Park gardens will be open from 10am to 5pm from Friday, April 8 to Sunday, April 25.
There will be similar trails at Cliveden in Taplow from Saturday, April 9 to Saturday April 24. Trails include a chocolate Rainforest Alliance Easter egg. See www.nationaltrust.org.uk
Have a sitdown and a bite to eat (or take it away) by the river at the Chocolate Café Henley. The menu is packed with children's
favourites, with everything from full English to jam sandwiches, with desserts, milkshakes and, of course, hot chocolate.
Situated at 13 Thames Side, the café is open from 9.30am to 4.30pm Monday to Friday, 9am to 5pm Saturday and Sunday. Work off the hot chocolate with a stroll around Mill Meadows and Marsh Meadows, the Green Flag award-winning space adjacent to the River Thames upstream of Henley Bridge. Mill Meadows has a toddler play area, an adventure playground, a bandstand, a café, flowerbeds and a sensory garden. Marsh Meadows has a lot of rough grass, trees and hedges and a wildlife area with a reed bed, shallow ponds and a meadow conservation area.
Visitors can hire a canoe for an hour, go to the Piazza Café or just generally enjoy some green space with a picnic and some relaxing family time. Visit www.henleytowncouncil.gov.uk/parks/mill-marsh-meadows
Wellington Country Park, Riseley, near Reading, is running a series of events over the Easter holidays, including PeteZa, Big Foot and the
pirates walk the plank, bubble fun in the big top and Circus Wellingtonia Easter eggstravaganza, the mega egg hunt.
Events run from Saturday, April 9 to Sunday, April 24. To find out more, call 0118 932 6444 or visit www.wellingtoncountrypark.co.uk
If it's looking like an indoor play day, Sonic The Hedgehog 2 will be showing at the Regal Picturehouse in Henley. Alternatively, Fireman Sam is in town with his friends Penny, Elvis, Station Officer Steele and Norman Price when Fireman Sam Live: Fireman Sam Saves the Circus comes to the Reading Hexagon on Saturday, April 16 at noon and 2.30pm.
For history fans, Blenheim Palace, near Woodstock, is celebrating the 300th anniversary of John Churchill. From Friday, April 15 to Sunday,
June 19, Battlefields and Baroque: The Thrilling Story of the 1st Duke of Marlborough will feature an immersive exhibition, talks and tours, a battle reenactment, concert, themed events and activities.
From Friday to Monday, April 15 to 18, Easter entertainment will take place within the walled garden, with fun trails, face-painting, circus skills, archery, mini-golf, street entertainment, balloon modelling, dressing up, a vintage funfair and a visit from the Easter Bunny. Visit www.blenheimpalace.com
DK productions is returning to the Kenton Theatre in Henley to disappear down a rabbit hole with Alice's Adventures in Wonderland. There will be lots of audience interaction, colourful animated scenery and a high-energy, fast-paced show, so look out for the Mad Hatter, the Queen
of Hearts and a crazy tea party. There are shows on Friday and Saturday, April 22 and 23 at 1pm and 4pm. Tickets £19 adults, £16 concessions, family £64. The show has a running time of 110 minutes, including a 20-minute interval. For more information and
to book tickets, call the box office on (01491) 525050 or visit www.kentontheatre.co.uk
Beale Wildlife Park, between Pangbourne and Lower Basildon, has breeding and conservation programmes, introducing species such as lynx. From Saturday, April 9, the park is open from 10am to 6pm. The park has a daily feeding timetable, with otters being fed at noon, meerkats at 2pm and lemurs at 3.30pm. For more information, visit www.bealepark.org.uk
Warburg Nature Reserve at Bix Bottom, near Henley (RG9 6BJ), is a site rich in wildlife with walking trails, bird hides, a picnic area and baby changing facilities.
It is high up in the Chilterns Area of Outstanding Natural Beauty, where you can see ancient trees, grazing animals and all manner of wildflowers. Visit www.bbowt.org.uk/nature-reserves/warburg-nature-reserve
Camp Mohawk, near Wargrave, is a multi-functional day centre for children with special needs set in five acres of countryside. The centre offers activities, facilities and natural space for families in the school holidays, so that children with a variety of special needs can play, socialise and learn in a secure and caring environment. It offers indoor and outdoor facilities including a wildlife area, games field, fire
circle, circus skills, archery lessons, soft play, swimming and art room. There are workshops, sensory and social activities led by experienced staff. campmohawk.org.uk